Birdsong clubs, a tradition originating from China, are one of Hanoi's hidden gems. If you're willing to really look for them, it's possible to find huge collections of birds kept in finely decorated wooden cages being watched by rows of men who care for them.
One particularly well-known place for witnessing this unusual ritual is an unnamed café on the corner of Nguyen Du and Tran Binh Trong, right beside Thien Quang Lake. Hanoians visit specifically to listen to their songbirds, drink coffee and smoke thuốc lào. Sitting with the men and listening to the songs of more than 40 birds can be a mesmerizing experience.
While traditionally perceived as a romantic hobby for older generations, the activity is also enjoyed by a surprising number of younger men. The age of bird owners who visit the cafe ranges from 20 to 70, although some are joined by their children, too. They all bring one, two or three cages, which are wrapped in thick satin covers so the birds don't wake up too early.
The cafés can be hard to find but are easily recognizable if you know what to look for: long metal poles for hanging cages on in front of rows of seats. On weekend mornings the venues welcome dozens of birds and become impossible to miss.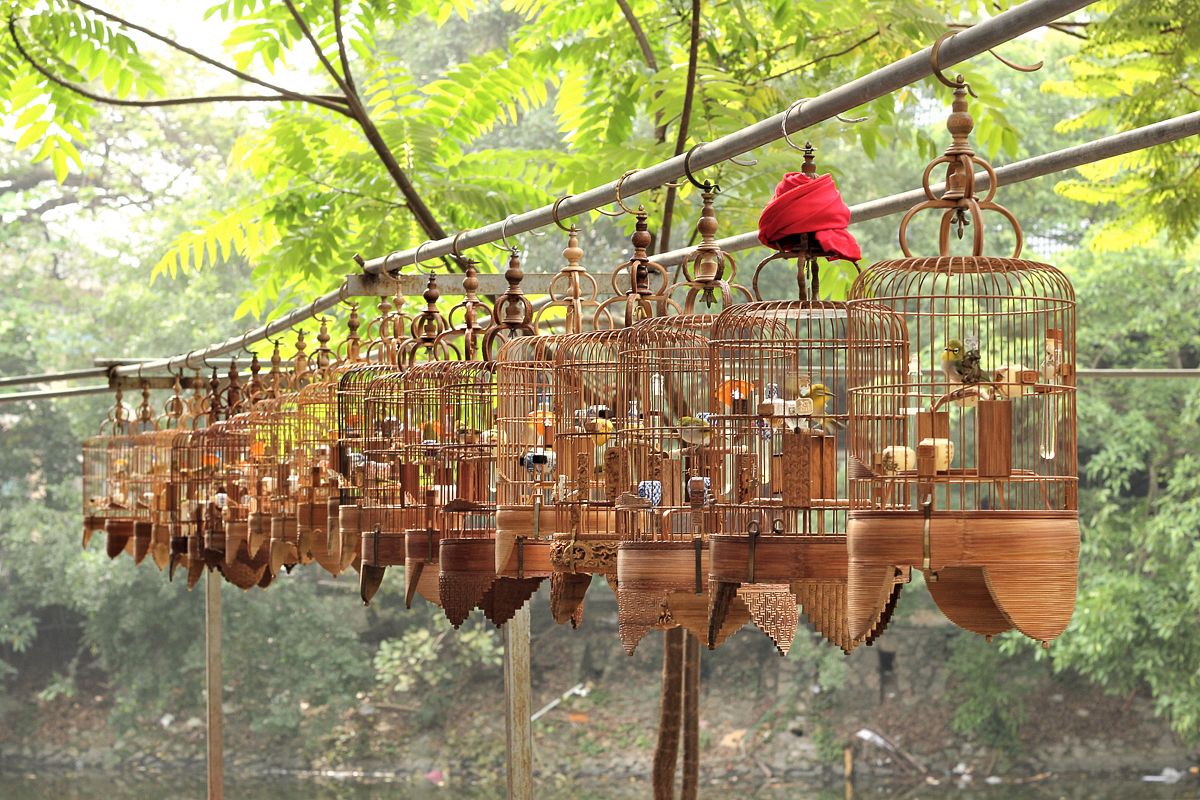 From Saigon's Tam Dao Park to Hanoi's Thien Quang Lake, the pastime has long been appreciated by certain circles of Vietnamese men. Enthusiasts gather in birdsong clubs, spending hours at a time appreciating their feathered friends. Many consider the activity to be virtuous, and a distraction from the evils of life. In Southeast Asian countries heavily influenced by Chinese culture, such as Vietnam and Singapore, the hobby is still very much alive.
Hanoi's Tang Bat Ho Street is another popular spot; alongside cafes, specialty pet shops here offer everything needed to become a bird owner. You can acquire an oriental white-eye (vành khuyên), the cheapest bird on offer, for about VND100,000. The most expensive species, however, can cost as much as VND20 million.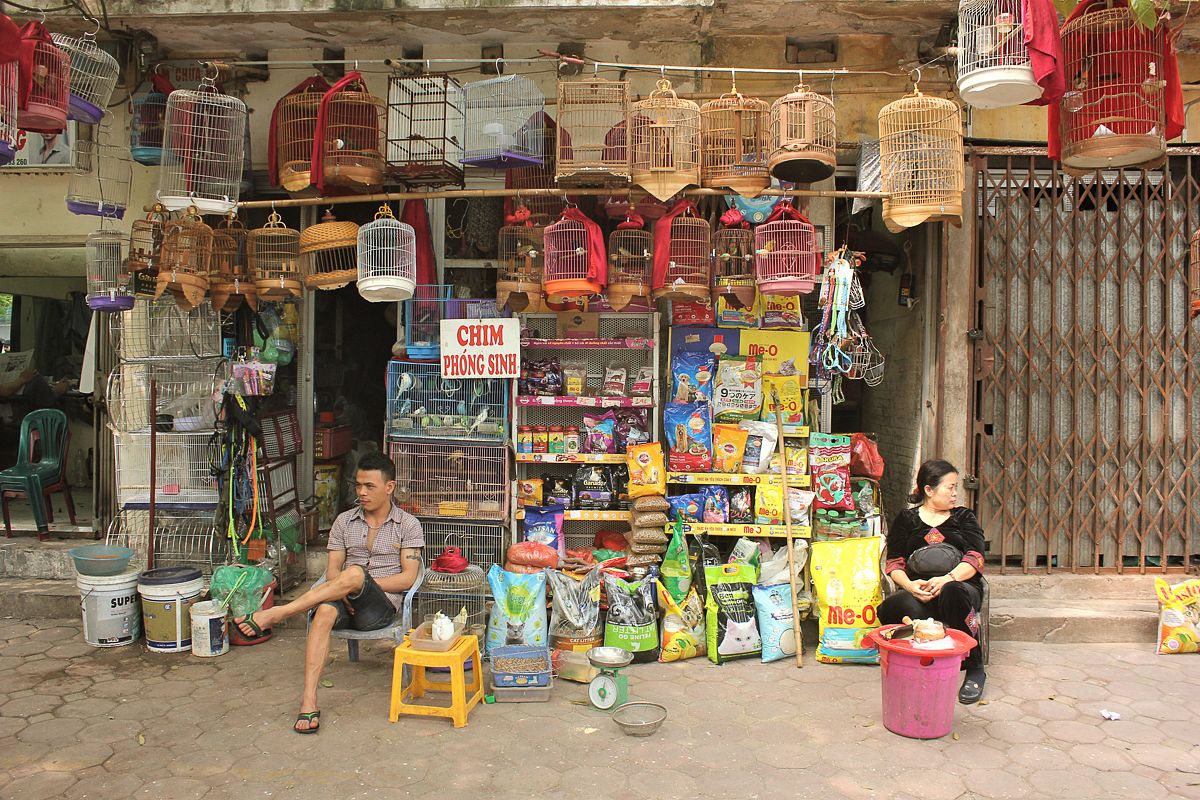 Vành khuyên, thanks to its price and beautiful song, is the most commonly bought singing bird in Hanoi. It's also a very small bird, so its cage doesn't need to be big, making it easily transportable. Bigger birds, such as the long-tailed red whiskered bulbul, or chào mào in Vietnamese, need to be kept in a much larger cage to be happy.
Although their fate as caged birds may seem unappealing, bird owners argue that specific skills are essential for their care. The birds are kept as pets but, from time to time, take part in competitions, too. As a result, the birds' happiness and comfort are top priorities for their owners.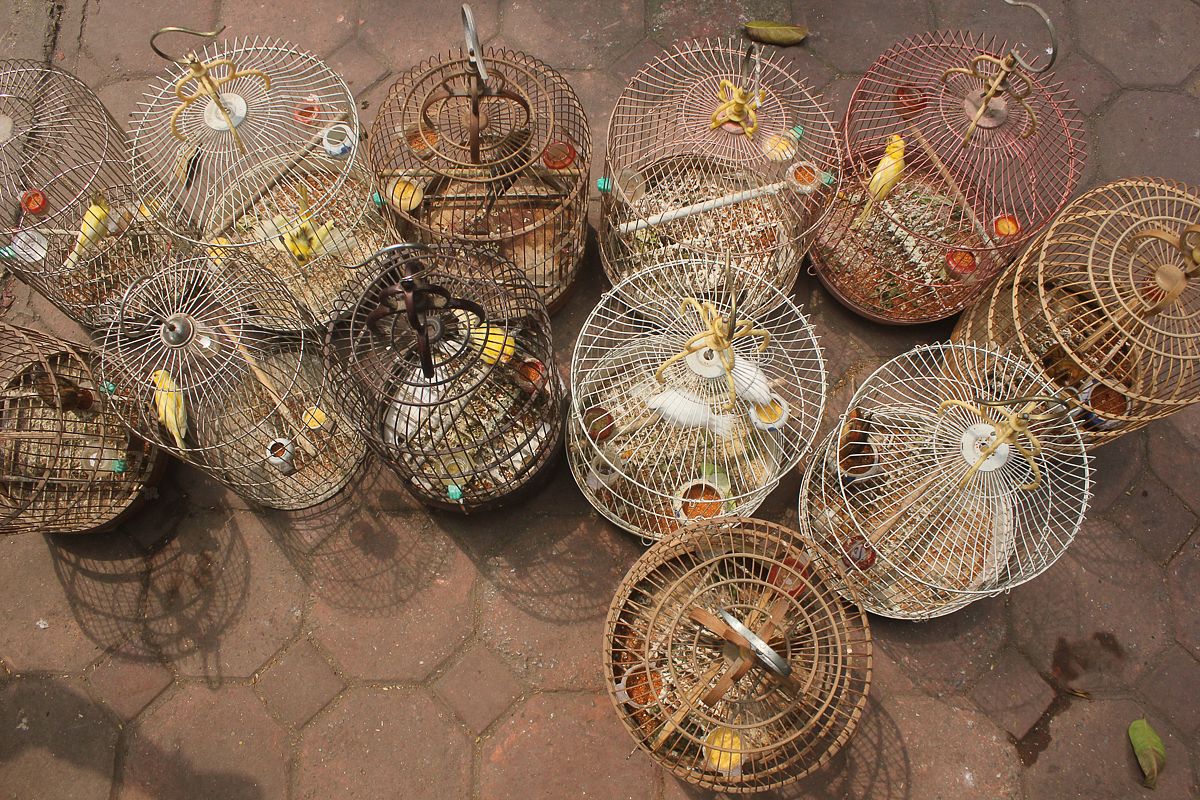 "To win, not only does a bird have to sing beautifully, it also needs to move gracefully, dance for the audience and display shining feathers," explains Luu Van Trong, the owner of ten birds from seven different species.
Trong trains his birds by playing them recordings of rainforest birdsong. Most of all, though, he hangs the cages of his Chinese hwamei (họa mi), white-rumped shama (chích chòe lửa) and European starling (sáo) near lines of orchids. His house, located in the suburbs of Hanoi, is filled with plants.
"If birds are kept in a natural environment and stimulated by each other, they will sing better…because they were captured from the forest," adds Trong. Capturing the birds is necessary, he claims, because birds are difficult to breed.
"It is almost impossible to force a pair of birds to mate if they don't actually like each other, just like humans. And that's why they must be captured young. The red whiskered bulbul, for example, come in pairs. If they have already chosen each other and are captured separately, they will surely die," continues Trong.
While feeding his five-hued nightingale (oanh ngũ sắc) a piece of orange, he explains that he became interested in birds because his family likes nature, and eventually he wanted to learn more. "I joined a local birdsong club two years ago in order to benefit from the experience of older bird owners," he says.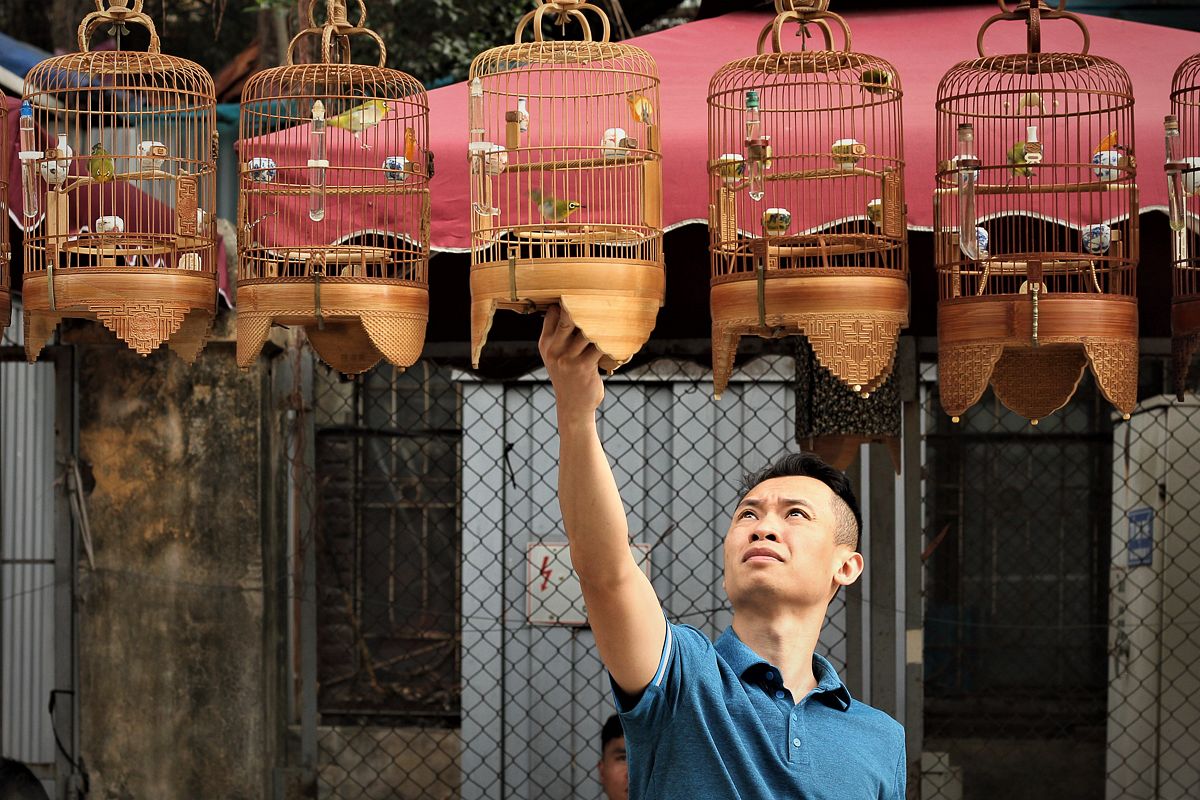 Part of his club's mission is to pass on knowledge and expertise to new members. Thanks to the teachings of older members, Trong now makes food for birds himself — a recipe that includes egg yolks, bran, shrimp and peanuts — and hosts a weekend club in his courtyard. Other bird owners spend whole mornings at his house, eating sunflower seeds and listening to birdsong beside his orchids.
Much like other passionate bird owners, Trong can recognize the voice of each one of his birds. In competitions, birds of the same species are put together. Their song, feathers, color and dancing are compared and rated. And that's when the magic happens; even among a hundred birds, they say the voice of their own bird speaks directly to their heart.