Urban exploration, urbex or UE, is a form of recreational urban trespass. Urbexers find a way into anything from derelict theme parks, sewers and asylums to factories, skyscrapers, missile silos and power stations. Usually, they begin in abandoned ruins, searching for beauty in dereliction.
Of course, it doesn't have to stop there. You could ascend skyscrapers or lift manhole covers for subterranean jaunts. If you choose to descend, you're a drainer. On the other hand, cataphiles delve into catacombs, such as those found in Paris, Rome and Odessa.
Others refer to UE as building hacking or infiltration, although the latter refers to accessing 'live' spaces or secure locations. That may sound destructive, but according to Jeff Chapman, author of Infiltration, urban explorers "never vandalize, steal or damage anything." Their desire is one of discovery and the chance to take "a few nice pictures."
And what about Vietnam? Is there a movement here? At first glance, the country seems ripe with opportunities. Semi-rural areas are littered with abandoned buildings, while new constructions and cranes are springing up like garden weeds in the big cities. The country's poor building standards create a serious safety issue, but still, the possibilities must be numerous. There was only one way to find out, and so, one morning, I met Jean Verly of Vietclimb for an urbex session.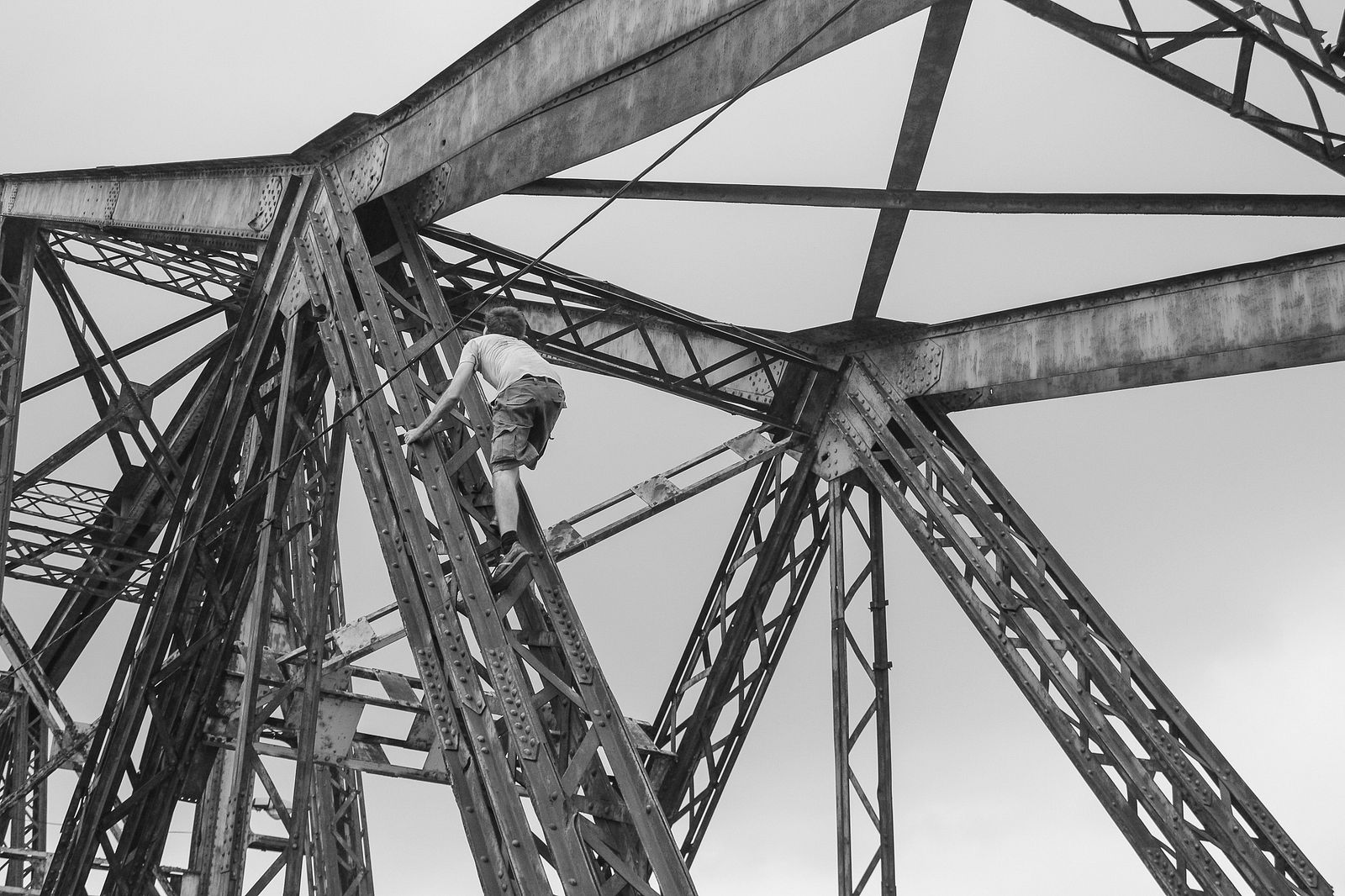 I waited for Jean not far from the bustle and scent of Long Bien Market, leaning against my bike on the ramp that winds up to the bridge. We planned to meet early, in the hope of climbing with the sunrise and missing rush hour. Both expectations were dismantled by the grey clouds and our own underestimation of Hanoi's early morning liveliness. The roads were already thick with motorbikes. One of the bikes slowed as it approached, the rider's orange shirt standing out against the grey. It was Jean.
We swung around the little park on the western shore and started heading back, before parking up against the railing halfway across. I showed Jean a diagonal section where I'd been able to get up before. It essentially acted as a kind of ladder. "After you," was his response. I looked over at the endless stream of motorbikes, which seemed almost entirely resistant to recreation. "Just go through," Jean chipped in with a flick of his hand, the most useful advice a newcomer to this city will ever hear. Regaining my assertiveness, I found a way through, holding my camera close as I reached the fence.
Photography plays a big part in urban exploration. The most prominent example is the 'hero shot': backlit adventurers silhouetted in front of cityscapes or underground tunnels. The name of which is also evidence of the scene's developing phraseology. This new way of interacting with the city requires a whole new lexis. 'Buildering' refers to the use of rock-climbing techniques when scaling buildings. 'Lift surfing' and 'ruin porn,' among many others, are self-explanatory. My personal favorite is 'Xmas,' a time when security barely exists, and long sought-after sites become accessible.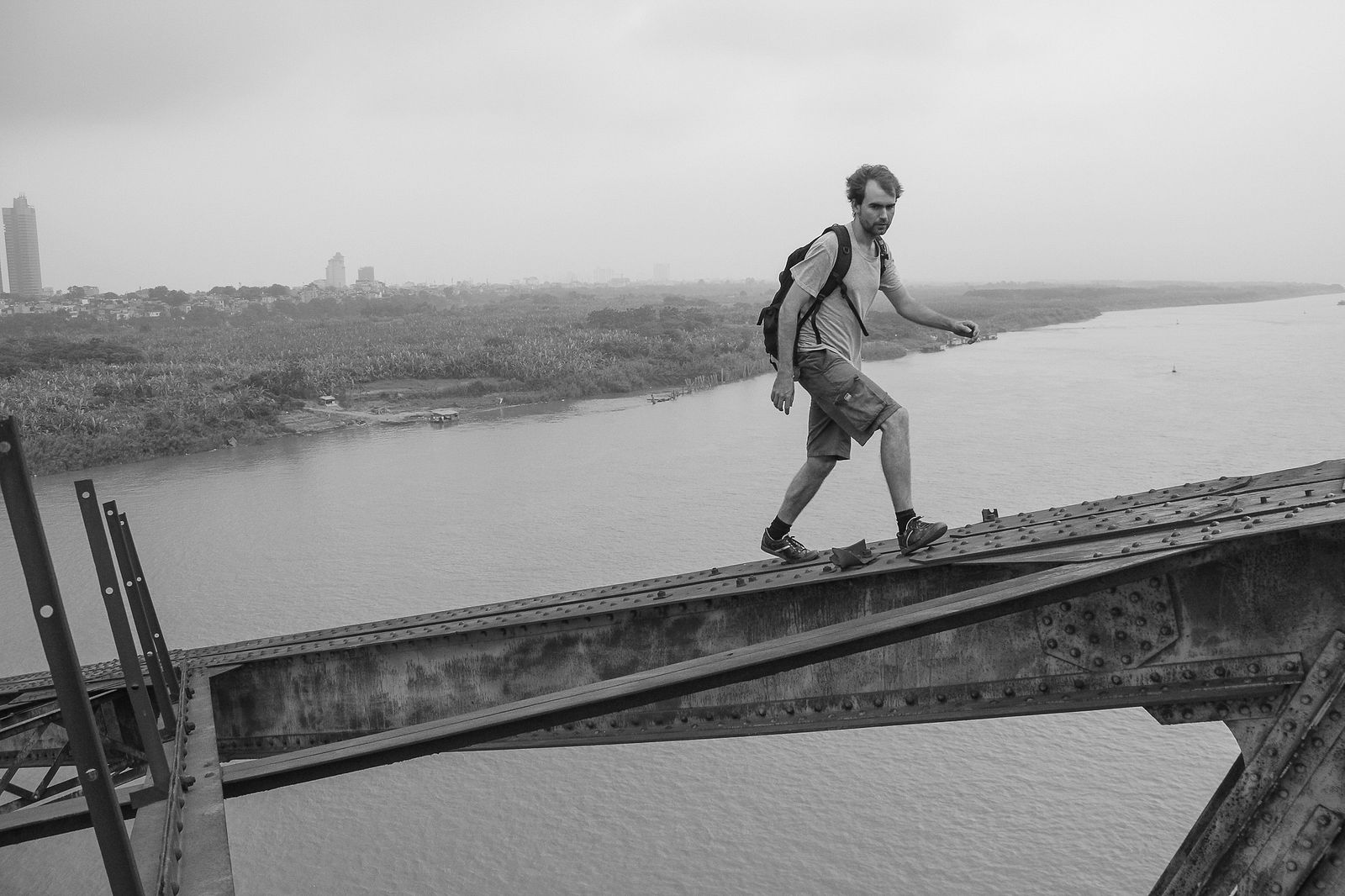 As these terms suggest, though, there are serious risks. Some are extremely dire: slipping from scaffolding, impaling yourself on metal spikes, drowning in sewage or inhaling toxic dust. Then there's the legal threat. You could be tried for trespassing, breaking and entering, perhaps even damage to property. And yet the unspoken rule is that of the country hiker: 'take nothing but photos, leave nothing but footprints.'
Eventually, we reached the inner-railing and began to climb. Hand-over-hand on the rusting iron limb, until we reached the mid-section. "You have to put your head through the gap and lift yourself up" I say to Jean, who's just behind me.
We came up onto the last section, a steeply sloping girder leading to the highest point, walking slowly to stay safe. There was barely a breeze today, which helped, and no passing trains to shake the bridge. We must have been about forty meters above the river when we reached the top.
Cargo ships passed underneath, so heavily burdened with goods they seemed barely afloat. A few men swam in the river, with plastic bottles tied to their bodies to help them stay buoyant. Ladies in conical hats sold barbecued corn to pedestrians. Nobody seemed to notice or care that we were there.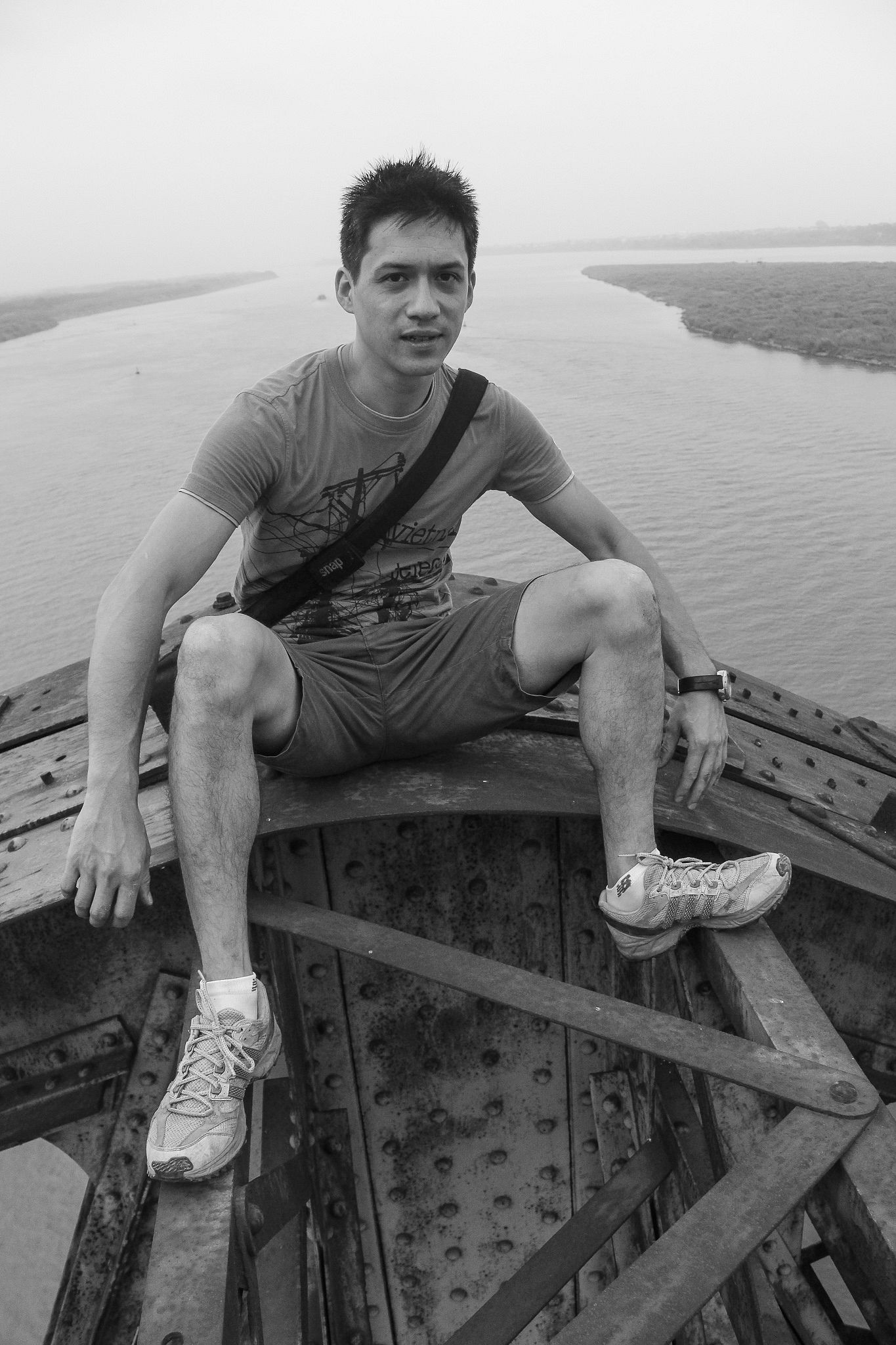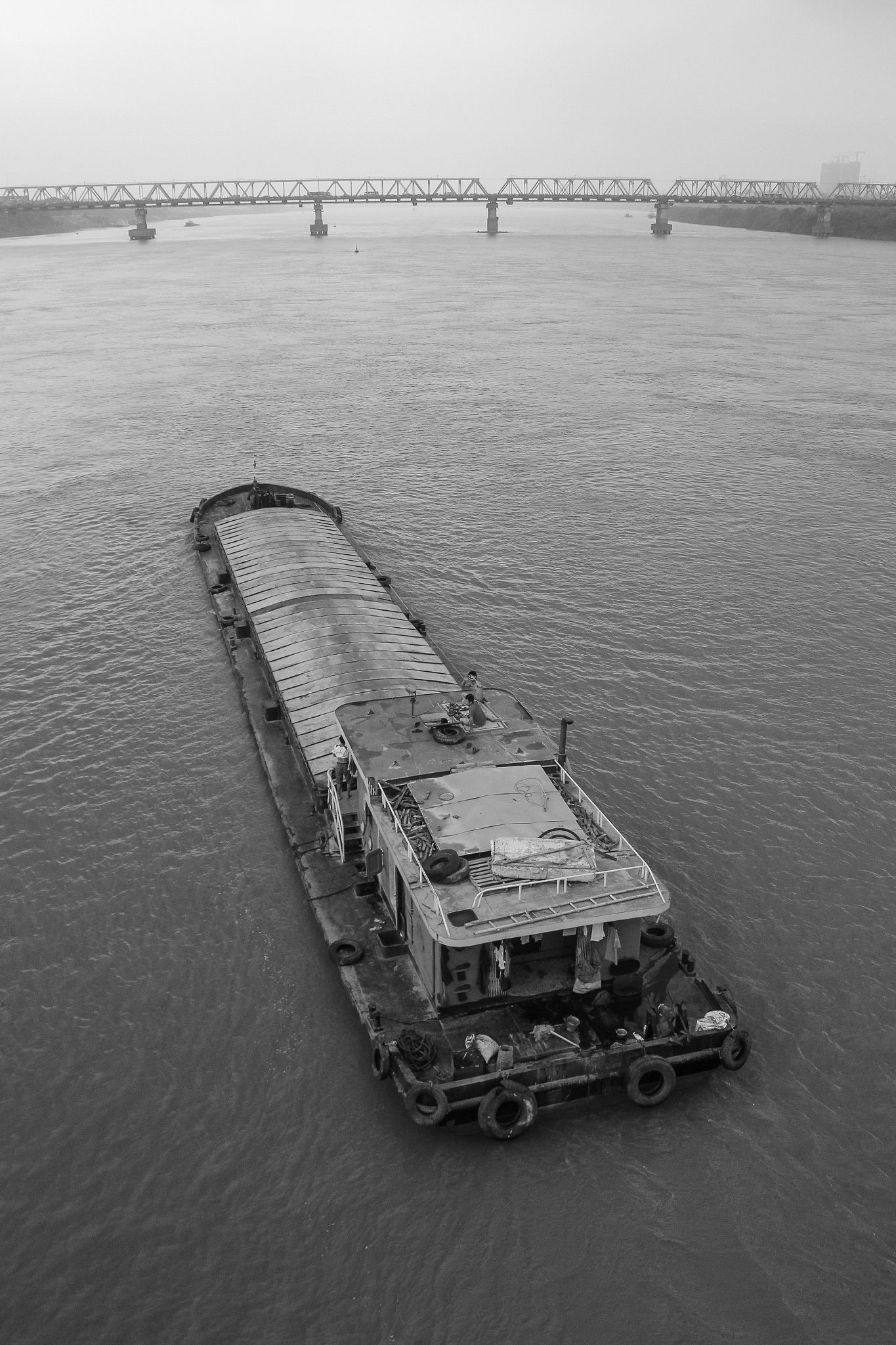 We walked as far as we could along the horizontal struts, then headed back to cross the support beams. As we explored, I asked Jean about other urbex experiences he'd been involved in. "We bouldered in some abandoned construction sites in An Khanh," he said, as he looked down the Red River, "but that was a private group, we can't really... advise that at Vietclimb, it might not be legal."
"And what about in Hanoi?" I asked. "Well...," he hesitated, "I was thinking earlier about maybe bouldering on the first floor of the water tower, but that would be more for the photo opportunity. And we climb sometimes on the gate of Dong Da Park, but that's arranged. I guess we might not call it urban exploration."
"The movement is really just beginning in Vietnam" he continued, "It's mainly in Saigon and Hanoi, and there's a mix of people that get involved. Expats and Vietnamese. But I guess one of the good things here is that you don't have the crazy CCTV culture you have in places like London, so there aren't so many barriers to getting involved."
Perhaps the idea of capturing people on film sparked the thought... I suddenly realized we were missing something crucial: the 'hero shot.' I told Jean and returned to the steeply sloping girder, this time crouching and pushing with my hands to shoe-ski quickly down the rusty metal to the mid-level point. I stepped back down the diagonal limb and crossed the traffic to reach the edge. Looking up, I could see Jean still up there, statuesque against the clouds as I took the shot. To onlookers, he may look either suicidal or courageous, depending on their perspective. In many ways, that sums up people's attitudes to urbex in general.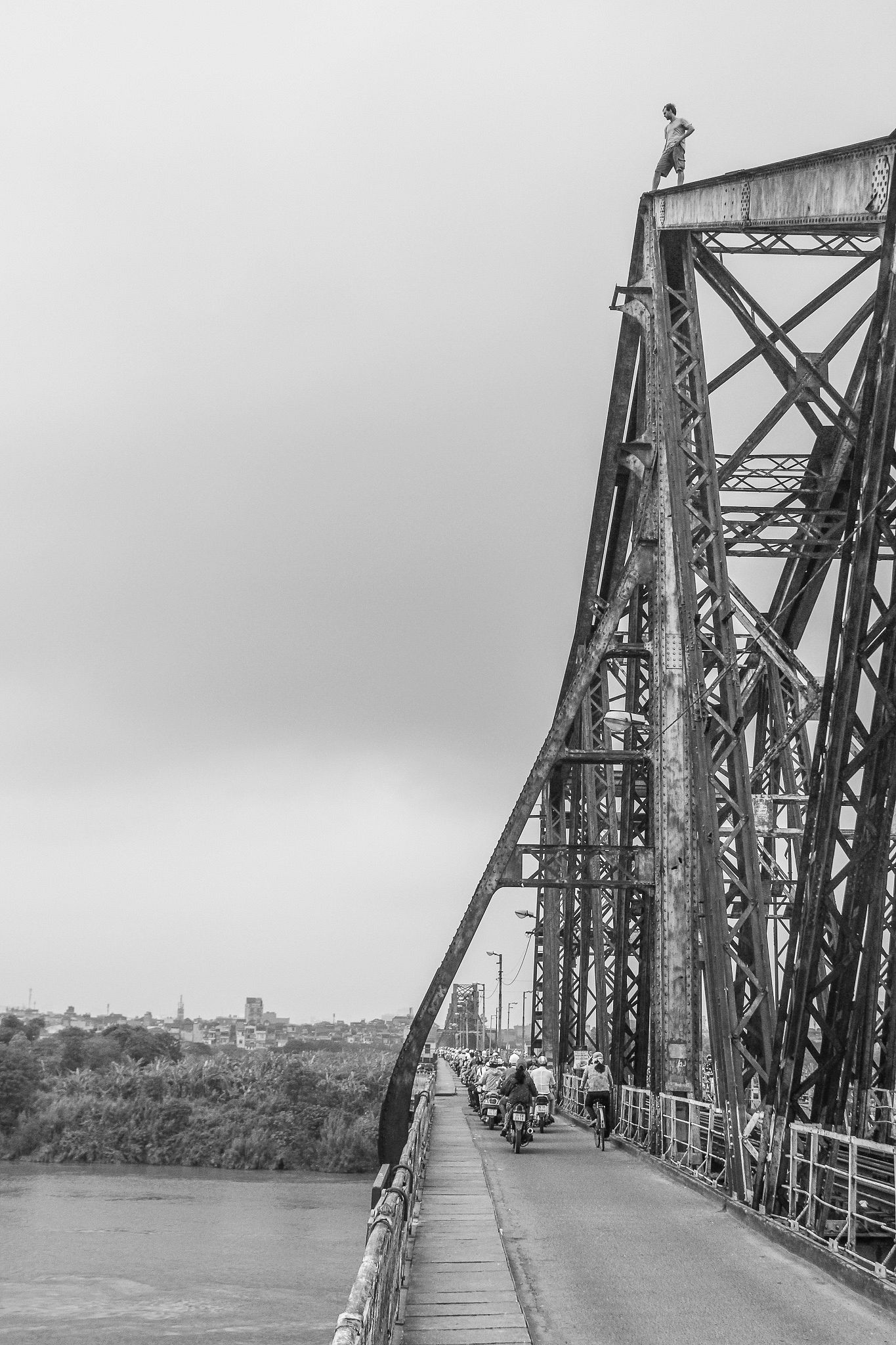 Urbex will probably always be divisive. People are drawn to it for a number of reasons; some just for kicks, others are more political and hope to prove a point. Danger is clearly a core element of the scene. The thrill provides the impetus; the anarchy is the attraction. Perhaps it's for that reason that the scene's rise in popularity has been met with increasing criticism. Opponents depict it as witless, needlessly dangerous or just plain illegal.
But perhaps that's missing the point. One of the best things to result from urbex, is that, no matter what your opinion, it draws our attention to the debate over private and public spaces: what should be accessible in modern cities? Is it possible to re-appropriate space?
Whatever your perspective, one thing is undeniable — no equipment or gear is required. All you really need is a lack of vertigo and a taste for risk.
This article originally appeared in Word, April 2016.