Ellen Downes is on the hunt for bathing suits. She trawls the narrow alleys of the Old Quarter for vintage and second-hand shops, scours the aisles of the used market on Dong Tac Street, and hops off her bicycle to scan racks of clothes in the shops on Yen Phu and Hoang Hoa Tham.
Her quest is international: friends back home in the UK send her suits, too. The extreme lengths to which Downes goes may feel familiar to anyone who has ever struggled to find a piece of fabric in which they will feel comfortable presenting their mostly-naked body to the world, but she is serving a purpose higher than vanity.
Eventually, each chosen suit will be presented to the world through Downes' new secondhand one-piece bathing suit shop, the One-Piece Boutique. Launching tomorrow, September 6, the online shop offers vintage suits to customers around Hanoi, who can order them for delivery or meet with Downes to try them on. The idea was born of Downes' affection for one-pieces and her sense that after four months in Hanoi, she had found a place where a small-scale, personalized business model could be financially viable as it grows.
"[One pieces] have the association with either being on the swim team or being like really old-fashioned," Downes tells Saigoneer. "And I love when I find a gem that…you don't know exactly its story but you know that you're part of the story and it's yours now and it's unique."
The goal is to showcase affordable, high quality vintage swimsuits, offering an alternative to "fast fashion," one that is more environmentally sustainable than mass-produced clothes with affordable prices built on exploitative labor practices. The process of stocking the bathing suits, up to 27 when we spoke, has offered Downes a window into Hanoi's second-hand clothing market — one that is huge but far murkier than the bright brands and glossy advertisements of the mass market shops.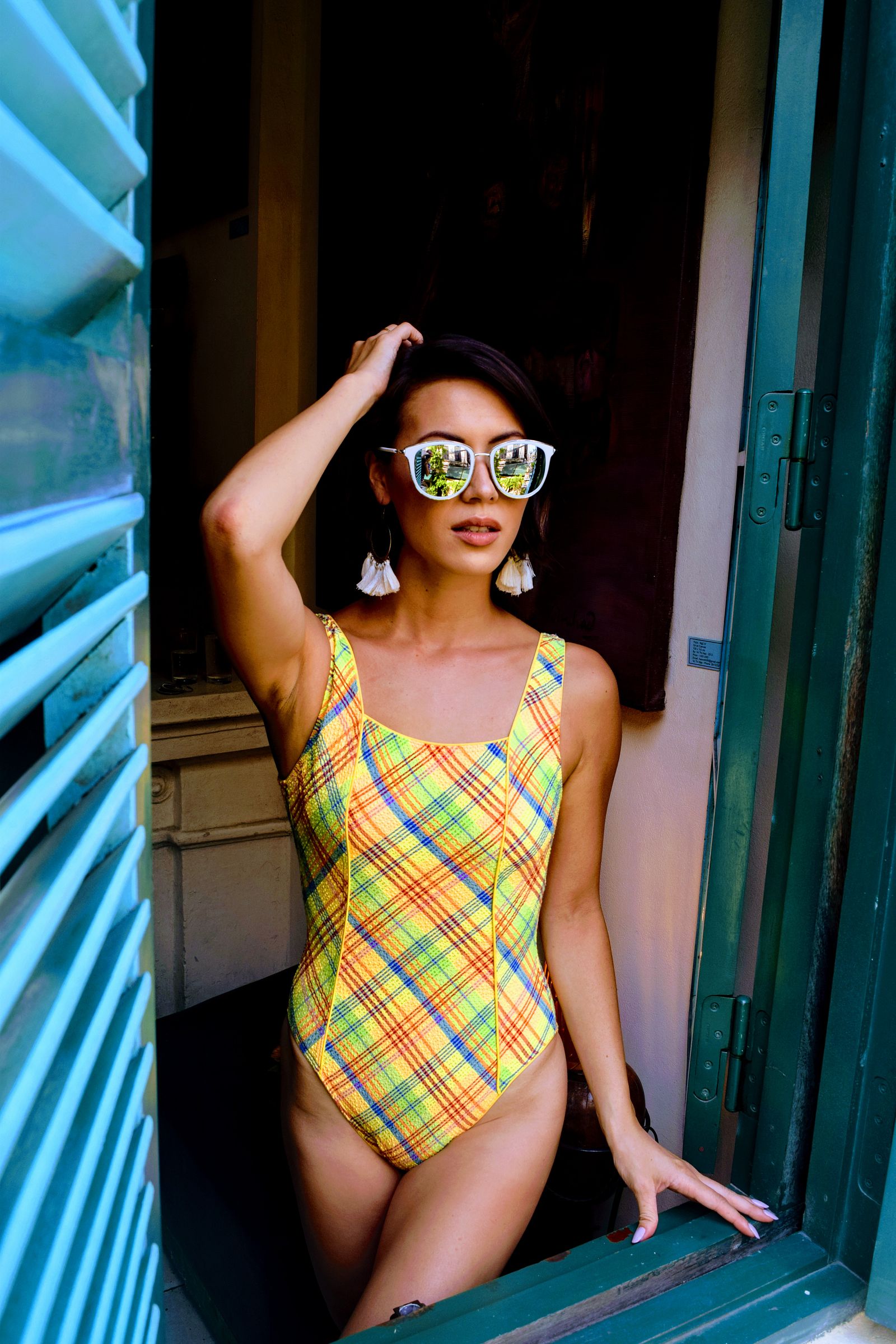 While the clothing labels in shops like Zara and H&M reveal the garment's country of origin (often Vietnam, as it is now among the world's top five garment and textile exporters), second-hand clothes keep their secrets. One piece — a sunny yellow suit Downes calls one of her favorites — was discovered inside a haystack of unremarkable costumes, and stood out for its unique cut and like-new quality. But the satisfaction of discovering a hidden gem raises a host of unanswerable questions about its origins and its pre-purchase life. The shops in which Downes searches for suits are often small and unassuming, "often tucked in between a bún chả place and a Circle K," Downes says.
Vietnam produces clothes for the world. Its 6,000 textile factories manufacture items for brands like Lululemon, Nike and Patagonia. More than two million Vietnamese people work in textile factories, the vast majority of them women. When it comes to secondhand clothes inside the country, though, they're likely to have come from much farther than Vietnam's southeastern textile hub.
Downes explains that many of the suits she has found in Hanoi carry tags from France or Germany. One second-hand vendor told Word Magazine in 2016 that many of her wares came from Cambodia, sent there in enormous plastic bags by do-gooding Scandinavians via the Swedish International Development Agency. Vietnam's second-hand clothes market, therefore, reveals a hidden circularity to the international exchange of garments. While Vietnamese-made clothes fill the racks at American and European malls, international organizations collect the cast-offs of the world's wealthy and send them to developing countries like Cambodia — where they end up purchased wholesale by enterprising entrepreneurs, sold around the region and, eventually, in a very few cases, picked up by Downes, who will market them to style-conscious expats and locals.
If the histories of Downes' vintage suits are mysterious, the origins of much of what's available at popular international chains can be just as hard to understand. Downes points out that while living in Hanoi, a highly urbanized and relatively wealthy part of Vietnam, it's easy to forget about working conditions in garment factories in other areas of the country.
The textile industry is typically the first to arrive in a country as industrialization starts. Because it requires less skilled workers, the quickest way to gain a competitive edge in the industry is to offer cheap labor. In this, Vietnam excels; the country is now welcoming manufacturing that has shifted from China as manufacturing costs there rise. But the growth of Vietnam's textile economy has come at a high price: many workers face unsafe conditions and have few options to advocate change. A 2015 study found that 80% of textile factories violate regulations on worker safety, rest periods and labor time.
And a VnExpress article earlier this year described a troubling phenomenon that casts doubt on the idea that workers' sacrifices are contributing to a long-term process of development. The news source reported that in many factories, including textile plants, factory bosses regularly dismiss workers over age 30, leaving them with no marketable skills and no clear sense of where to go next.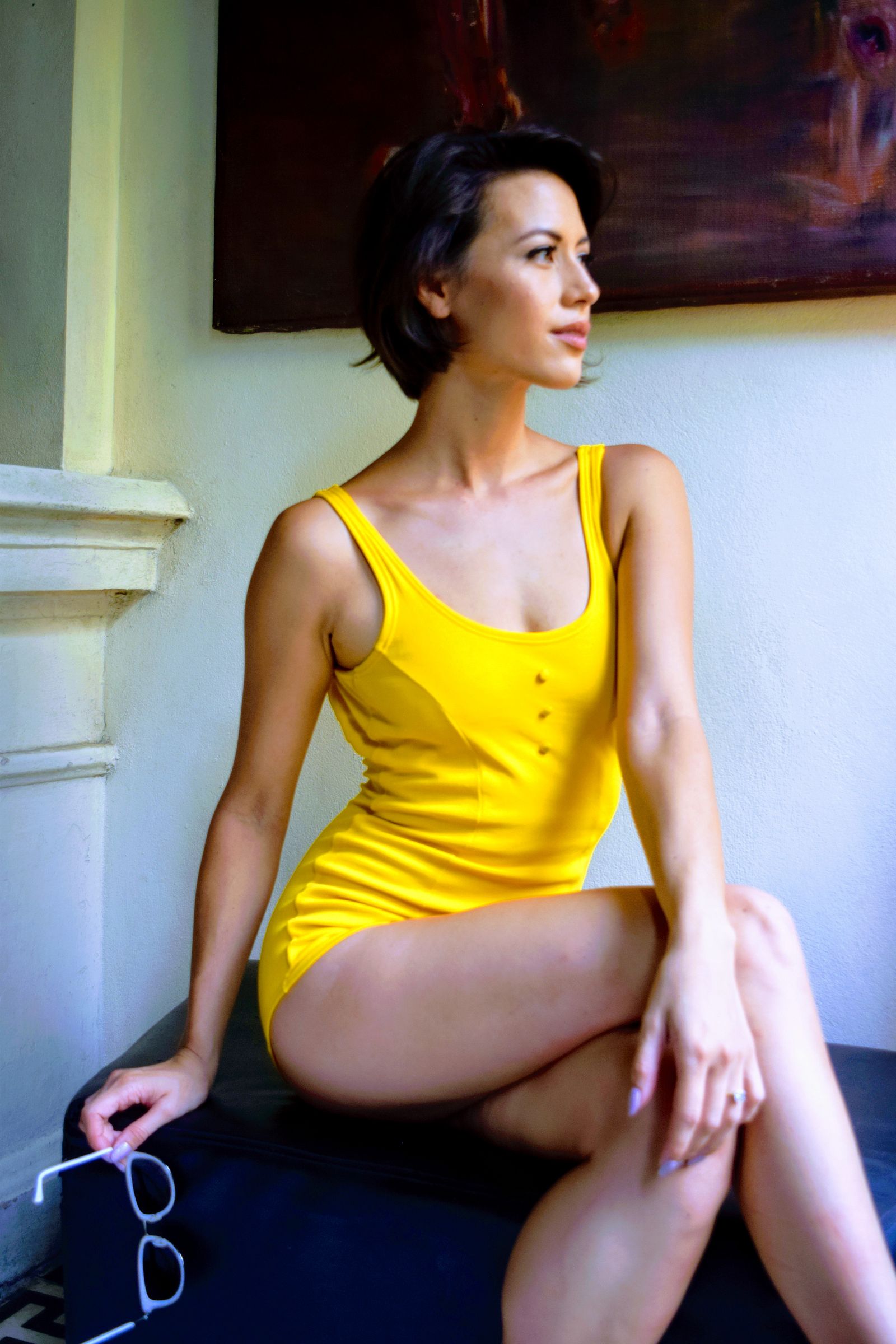 Downes hopes that the One-Piece Boutique, though small, will help lift interest in alternatives to fast fashion. She'll also donate 20% of profits to Fashion Revolution Vietnam, the national branch of an international organization that aims to raise awareness about worker's rights and advocates for change in the fashion industry. Fashion Revolution Week 2019 will be run between Hanoi and Saigon, while previous iterations were based in Saigon alone, so Downes hopes to deepen her work with the organization. Each suit will sell for between VND250,000 and VND400,000, a price point she believes will make the pieces widely accessible.
"I'm super involved with selecting the collection right now and it's going to be really nice for other people to fall in love with them," she says.
---

Related Articles:
---