Well, it was only a matter of time. After confirming earlier this month that the hipster subculture is alive and well in Saigon (in addition to flying whales, apparently), it looks like one of its defining characteristics, fixed-gear bicycles, are becoming increasing popular in the city.
The bikes, some of which have a front brake, and others none at all, have long been popular in urban areas around the globe, especially in the U.S. and Europe. According to a recent article in Tuoi Tre, the fixie fad has been growing strong in Saigon over the past 2 years with over 10 clubs dedicated to the single-speed bikes.
Often painted in colorful designs, the bikes range from VND4 million to VND12 million though fake imports from China are "rampant."
Riders can learn the basics and more advanced moves from one of the local clubs or by watching videos on the internet.
36-year-old Le Van Luan has been running the Fixed Gear Saigon Club on Phu Nhuan District's Tran Cao Van Street since 2010 where he and his staff assemble and sell quality fixies and accessories.
Other fixie shops include Fixed Gear BinBin on District 1's De Tham Street, Fixed Gear HCM on Phu Nhuan District's Nguyen Van Dau Street and Fixed Gear BonBon Shop on District 3's Ky Dong Street.
One of the city's largest clubs, the Fixed Gear Hung Club, boasts nearly 300 members and every Wednesday and Friday evening, members ride their bikes some 7km from District 1 to Phu My Hung.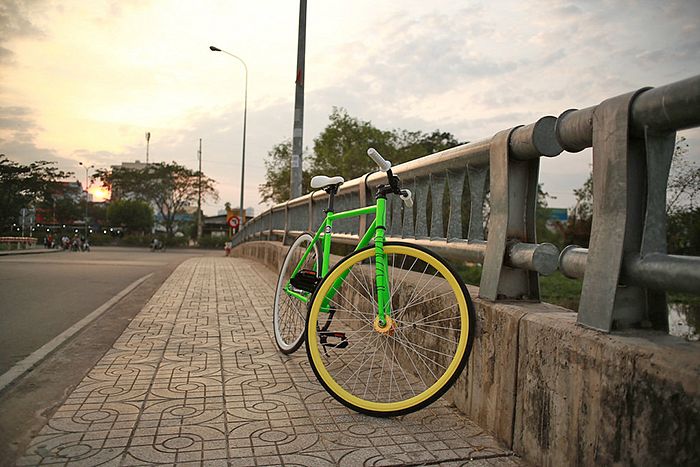 Other fixed-gear bike clubs are based in District 3, Binh Tan and Thu Duc Districts in addition to Hanoi and Da Nang.
And Vietnam peddles a bit further towards full-on globalization.
[Tuoi Tre]