Three months after President Barack Obama's historic visit to Vietnam last May, the country's "Obama fever" seems to have subsided. However, for the folks behind Bia Hanoi, a product of the Hanoi Beer and Beverage Company (Habeco), the Obama craze has only just begun.
Earlier this year, the American leader made a short but fruitful trip to Hanoi and Saigon. While the major accomplishments of his trip included lifting a 50-year-old ban on weapons sales to Vietnam and announcing the opening of a Fulbright University in the country, Obama also singlehandedly revived bún chả restaurants the world over after photos of POTUS bonding with renowned chef Anthony Bourdain at Hanoi's Bun Cha Huong Lien hit international news outlets.
Since then, business at the lucky stall has flourished. The quaint shop now opens from early morning to late at night and serves customers from all walks of life, who hope to sample a taste of the famous meal once enjoyed by the leader of the free world. Huong Lien's chefs also capitalized on the fame by coming up with a designated set meal – suất Obama – comprising items similar to what the president ordered on his visit.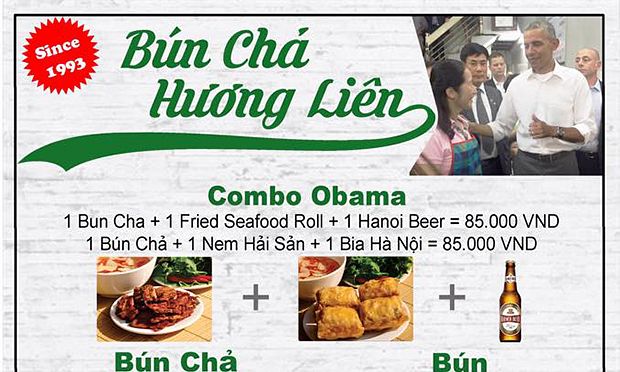 While Obama's visit has vivified bún chả sales worldwide, Bia Hanoi was mysteriously left out of the spotlight, despite having enjoyed the same level of exposure from the presidential visit. Some netizens were quick to blame this on Habeco's lackluster promotional efforts and improper preparation in the event of a "golden" marketing opportunity.
"[The visit] means worldwide exposure at practically zero in cost with a short-term marketing effect that's really hard to come by in the next four or five years," branding expert Tran Duc Son told Thanh Nien. "While even a small business like Huong Lien could make good use of the amazing opportunity, Bia Hanoi is lagging behind."
According to the news source, Bia Hanoi's revenue in 2015 reached VND18 trillion (US$807 million). However the majority of sales were domestic, while Habeco only made US$1 million exporting its beer abroad. Even then, most of the "export" sales were informal, meaning overseas Vietnamese restaurateurs brought home a few cases of the beer to stockpile inventory.
It's difficult to come up with a clear-cut explanation as to why Bia Hanoi suffered from such unhealthy international growth, but the common opinion seems to be that Habeco's marketing efforts leave much to be desired.
Recently, after being targeted online for dilly-dallying with their post-Obama marketing activities, Habeco has finally beefed up their promotions with a range of Obama-clad advertising materials, reports CafeF.
Apart from embellishing their official website with news articles about the visit, the beverage company has started a joint deal with the folks at Huong Lien to include a bottle of Bia Hanoi in portions of suất Obama as well as furnishing the shop's walls with posters of the president sipping the company beer.
Rumor has it that after the Obama's visit, Habeco also reached out to Huong Lien seeking to purchase the bottle of beer from which the president drank, only to find it had already been snapped up by a crew member of Anthony Bourdain's travel show.
Despite the newfound approach to marketing, Habeco has once again come under fire from critics, who slammed the company's blatant usage of the president's image without asking for permission.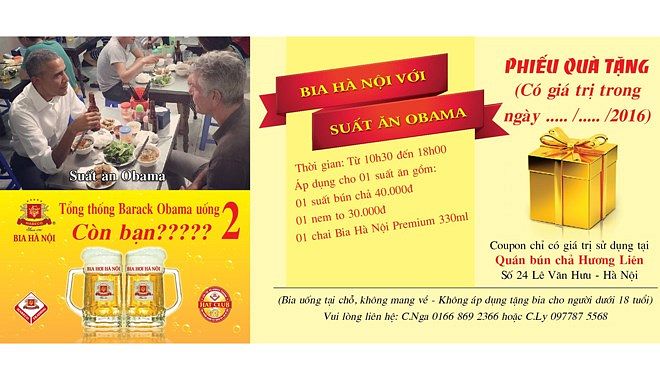 "The use of an individual's image for promotional purposes requires their permission, unless it is for governmental or public welfare use," a member of lawyer firm PLF told VietnamNet. They also added that a violation of this law could be fined VND20-30 million.
While it's quite unlikely that Obama will come after Habeco for plastering his face pretty much everywhere, the company's reputation has definitely taken another hit, a bad sign especially when earlier this year, Heineken overtook the firm to become the second most popular beer brand in Vietnam.
[Photo via NBC]
---

Related Articles:
---