Life, like the streets and alleys of Saigon, certainly has its fair share of twists and turns. One moment, you're comfortably cruising down one direction, and suddenly, you encounter a detour. You try your best to navigate down an unknown path, guessing, turning—hoping—to get back on track.
Lost on a motorbike, it's easy to steer back onto the right course. Lost in life, on the other hand, has its complications when you want to go in reverse. And, if that other hand is holding a grenade, with the pin unclenched and the target in sight, there are some routes people take where turning back is no longer an option. This was the path Vo Thi Sau ventured down during the 1940s.
Vo Thi Sau was born in 1933 in Ba Ria - Vung Tau province. She wasn't even a teenager when Ho Chi Minh declared independence from France on September 2, 1945. Swept in the fervor of anti-colonial resistance, Vo Thi Sau joined a local guerilla unit. By the age of 14, Sau was already a staunch militant and she proved this by throwing a grenade at a group of French soldiers, killing one and injuring at least a dozen.
Once you go attack, you never go back.
---
Related Articles:
- Street Cred: Nguyễn Văn Trỗi
- Street Cred: Lạc Long Quân and Âu Cơ
- Street Cred: Cách Mạng Tháng 8
---
Two years later, Vo Thi Sau attempted another grenade strike, but this time, she was arrested before any more French bodies were blown into bits. Like many fighters before her and after her, she was sentenced to death via firing squad.
On January 23, 1952, Vo Thi Sau spent the last minutes of her life singing. She refused to be blindfolded as they tied her to a stake and song still flowed from her mouth—until it was silenced by the sound of bullets. She was 19.
Vo Thi Sau is currently interred at Con Dao Island but this place has changed a lot since her time. What used to be a final destination has now become a tourist destination.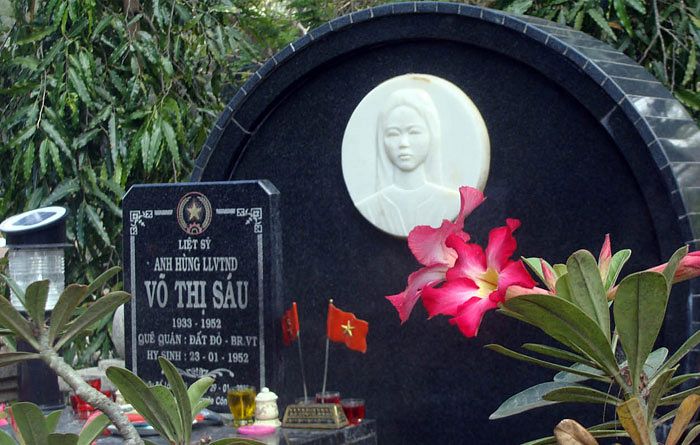 Each year, thousands of people visit Vo Thi Sau's grave. They bring with them fresh cut flowers and incense sticks to pay homage to a heroine who rebelled until the very end.
Although she's no longer singing, her name can be heard in Vietnamese songs celebrating her life and bravery. And yes, you can also see her name on a one-way street that cuts through Saigon's District 3.
No turning back.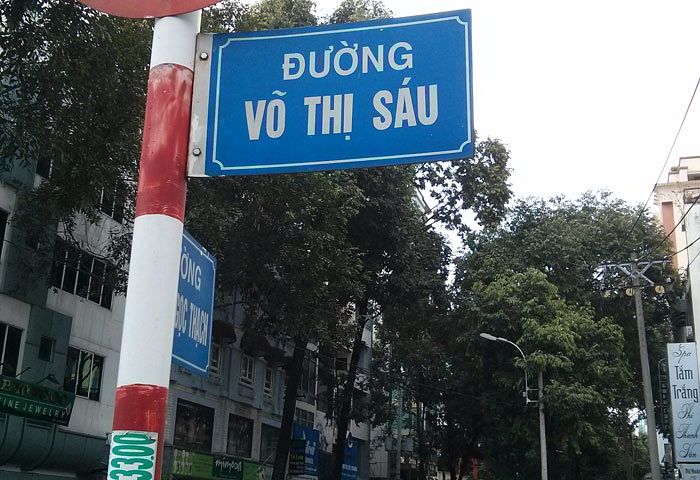 About the writer:
California is where he's from, Saigon is where he's at and this column is where he could be found. If you're looking for a freelance writer specializing in Vietnam, please contact Vinh at vinh@berkeley.edu.