The first time I met Ca Hoi Hoang frontman Nguyen Viet Thanh and band leader Nguyen Thanh Minh was in the midst of a sweltering Saigon afternoon.
They had agreed to pay Saigoneer a visit and play an acoustic session in our office. Thanh, better known as Thanh Luke, was fuzzy-haired and soft-spoken, while Minh sported a crew cut and five o'clock shadow. Through the process of getting to know Ca Hoi Hoang, which included putting their music on repeat for a few days and sitting down for beer and idle conversation with the band members, the many different and delightful contradictions of the quarter and their music became clear.
This could be the result of buying into the many unhealthy stereotypes of TV commercials for men's deodorant and razor blades, but whenever I hear the word "rock band", it conjures up images of wacky leather outfits, excessive hairspray and shrieking groupies. On the contrary, however, Thanh Luke and Minh were as down-to-earth and friendly as they come.
Both Da Lat natives, the pair go way back. In fact, they met for the first time when they were 15.
"We didn't get along right away," Minh recalls of his first impression of Thanh Luke. "He didn't walk like a normal person but tiptoed around. I remember thinking: 'Wow, he's such a weirdo.'"
Most of their formative years were spent in sleepy Da Lat, where the very first seeds of their passion for music were sown: in 11th grade, they hung out with a group of like-minded friends who loved jamming together. Minh and Thanh Luke also played in a punk-rock band called Dep To Ong, named after Vietnam's unofficial national footwear, which looks like this.
Eventually, they decided to form their own band, Ca Hoi Hoang (Wild Salmon). Their current bassist, Bui Khac Dat, joined in 2015, while guitarist Le Dang Hieu rounded out the quartet in February of last year. The name Wild Salmon is meant to denote a powerful force of nature and a sense of undying vitality.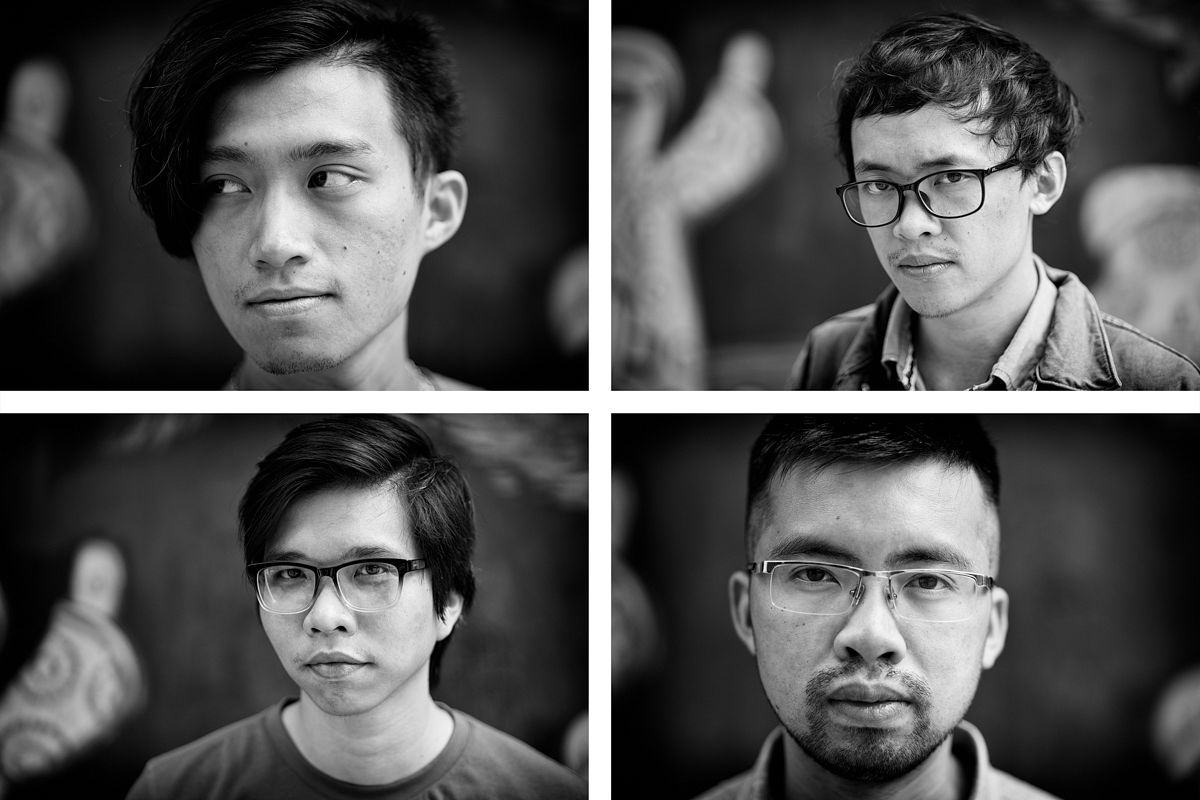 Here lies another delightful contradiction: Ca Hoi Hoang's music is not nearly as aggressive or primeval as their name appears to imply. This is not to say there's no power in their musicality: Thanh Luke can hit a high note like Mark Foster or Ben Gibbard, and there are countless examples of fiery guitar licks in their repertoire.
However, it seems the band has managed to strike a harmonious balance between strength and vulnerability in their songwriting. Giac Mo Giay (Paper Dreams), their latest album, reads like a seamless compilation of diary entries and unsent letters. All of the band members share writing credits in the album and weave their own personal stories into the lyrics.
"Nha 9A" ("House 9A"), the album's first single, was penned by Thanh Luke and features his house in Da Lat and the idyllic summers of his childhood, spent reading comic books and "listening to music all afternoon", he says. The narrative-driven song is also Thanh Luke's favorite on the album because of its personal nature.
At one point, between recording and some stiff, introductory banter, somebody suggested beer and conversation soon became a breeze. This is Vietnam we're talking about: booze is the best social lubricant in pretty much all situations.
"Actually my favorite is also 'Nha 9A'," I confessed, much to Thanh Luke's delight and the other members' protest. "Hoan Hao" was Minh's pick from the new album, while Dat went with "Canh Dong". Hieu opted for "Khung Troi Xanh Kia" because "it's the heaviest song on the album and it adds a deeper layer of emotions to the record".
Giac Mo Giay is technically the band's sophomore effort, but it was the first creation involving all four of Ca Hoi Hoang's current members. The record took a while to complete and was not without hiccups. According to Thanh Luke, they initially considered "putting everything on a van, renting an empty room and finish recording" in a remote location. He adds: "That would make for a rather unique experience had we done it that way."
However, the plan was derailed, as Thanh Luke got into an accident right before their planned departure. It took him one month to heal, but they had a deadline to meet. Giac Mo Giay was finished in February of last year, after two months' work.
"I don't actually know what defines 'a better album', because that is up to the audience to decide," Thanh Luke shares, "but we always aim for an element of growth every time we record something. We want to build on a new experience to deliver better quality."
It's not difficult to spot the range of musical acts that have influenced Ca Hoi Hoang's tunes and musicality: one can sense a bit of Kodaline, a tinge of Kings of Leon and maybe a dash of Coldplay here and there in between guitar solos and falsettos. But over the years, it's apparent that the four-member band have made thorough use of these musical building blocks to carve out a distinct identity for themselves that both lures the audience in and convinces them to stay.
After a few hours, we wrapped up the very first Saigoneer Sessions, enough beer and live performance-induced adrenaline in our systems to haul the bulk of Ca Hoi Hoang's musical equipment into the trunk of a Vinasun taxi before it sped off swiftly into the night.
Ca Hoi Hoang's latest album, Giac Mo Giay, is available both on CD and cassette here and on iTunes here.
Enjoy the full performance of Ca Hoi Hoang's visit to Saigoneer below:
---
Related Articles:
---