Director Bao Nguyen explains the story behind Google's first-ever TV commercial made for Vietnamese audiences.
If you've spent any time on the internet in the last month, it's possible you've seen a fancy, new Google advert floating around. But while online advertising is nothing new, the accompanying TV commercial is. As evidenced by the many familiar sights and sounds of the two-minute video, Google's latest ad is its first to be entirely made in Vietnam.
For the TV spot, Google enlisted the help of Vietnamese-American director Bao Nguyen, whose most recent documentary Live From New York! opened this year's Tribeca Film Festival. As both an avid Google user and a Saigon resident, Nguyen jumped at the opportunity to create a made-in-Vietnam commercial for a Vietnamese audience.
This may seem like a pretty straightforward idea, but it's actually less common than you might think. "Vietnamese audiences are yearning for locally made content, be it commercials or feature films," the Vietnamese-American director tells Saigoneer. "The audiences here are much smarter and more sophisticated than a lot of content makers give them credit for. I don't think you can just stick on some Vietnamese text at the end of a Thai- or Singaporean-produced commercial and not expect Vietnamese viewers to notice the difference."
With the opportunity to create local content for a global company, Nguyen and creative agency Phibious worked together to develop the storyline of the commercial.
"Usually when I'm approached with these type of commercial projects, the script is complete, and I just add a few creative touches as the director, but it was really an ever-evolving story that we kept refining," the director says.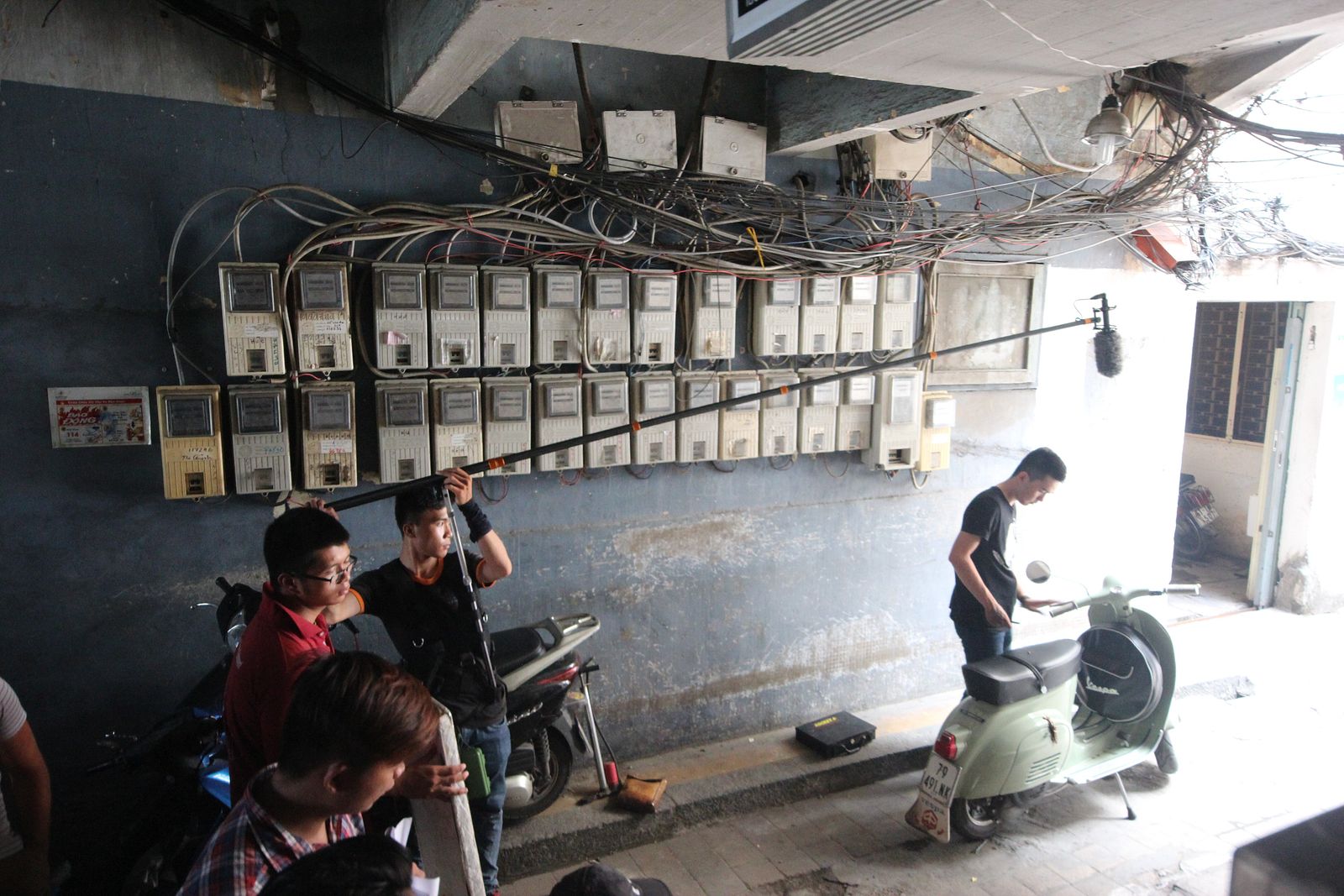 Instead of hiring actors to shoot the commercial, Nguyen linked up with The Scooterist, a group of local vintage Vespa enthusiasts, to play themselves. The advert follows four Scooterist members as they prepare for a road trip using Google's new phone app.
The resulting video emphasizes the juxtaposition of old and new, something which both The Scooterist and Saigon itself embody, so when it came to choosing locations for the commercial, the city offered plenty of variety.
"Saigoneer actually played a role in helping me find locations," he says. "When we were first scouting, I was looking for locations that define old and new Saigon, and I searched for old Art Deco-style buildings through the Saigoneer archives. As you can see in the piece, the spot touches upon the synthesis of vintage culture – the lifestyle of The Scooterist – and modernity [through] the use of the Google app, so I wanted some of the locations to reflect that."
To create the commercial, Nguyen and his team spent three days filming around Saigon. Throughout the TV spot, you'll find some of the city's more famous landmarks, including the Notre Dame Cathedral and the Bitexco Tower, as well as Ben Thanh Market and Cau Mong.
Nguyen also enlisted the help of Caleb Heller, the same cinematographer behind Live From New York!, to help give the video a more genuine, documentary-style look.
"Since we use real people and not actors, it was important that we showed the authenticity and characteristics of The Scooterist," says Nguyen.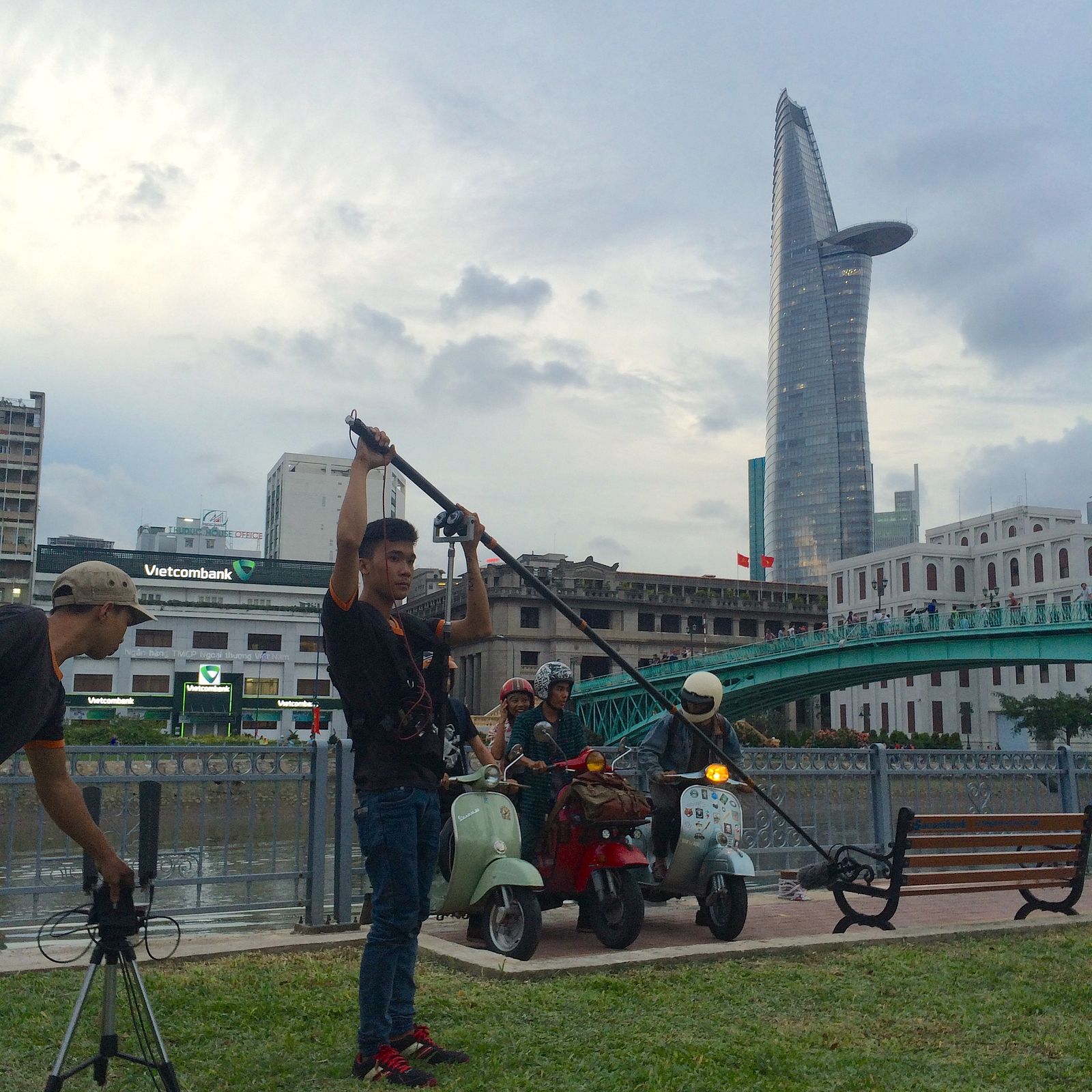 "On the last day of our shoot, we shot a lot of exteriors in the city and had to shoot a lot of takes because, as you may know in Saigon, a film shoot attracts a lot of attention," he continues. "Because of this, I asked Hoang, one of The Scooterists, for a lot of takes. He was doing everything perfectly but when we finally had a break in shooting, he came up to me with a despondent look and asked if he was doing a bad job. I told him he was doing great, and I asked him why he thought to ask this question. He responded, 'Well, you keep on asking me to do this over and over again.' I smiled and told him not to worry, and it wasn't his fault. It was a sweet way to end the shoot and really exemplified the humility and genuineness of The Scooterist."
Moving forward, there's no news whether Google will plan for additional ads in Vietnam but Nguyen is keen to see more locally produced content, no matter who it's from.
"I hope more brands notice this and are willing to produce locally made content that is suited specifically for the Vietnamese audience," he says. "I keep mentioning the term authentic because I think it is so important, especially in the creative industry, to make content that reflects the experience of the person watching it."
That said, take a look at the Google advert below:
` `` `
---
Related Articles:
---