While most Saigoneers were sound asleep on Sunday night, a tragic accident occurred near the Hang Xanh Intersection in Binh Thanh District, killing one and injuring others.
According to an on-site report by Tuoi Tre, at 11:10pm on Sunday, October 21, a female driver was traveling along Dien Bien Phu Street from District 3 toward the Saigon Bridge when her vehicle plowed into a host of motorbikes.
The motorbike drivers were stopped at the traffic light at the Hang Xanh Intersection when the out-of-control BMW hit them from behind, immediately claiming the life of one female victim. The car careened across the crossroads until it hit a taxi and stopped. Seven others were injured by the accident, including the taxi driver and six motorcyclists.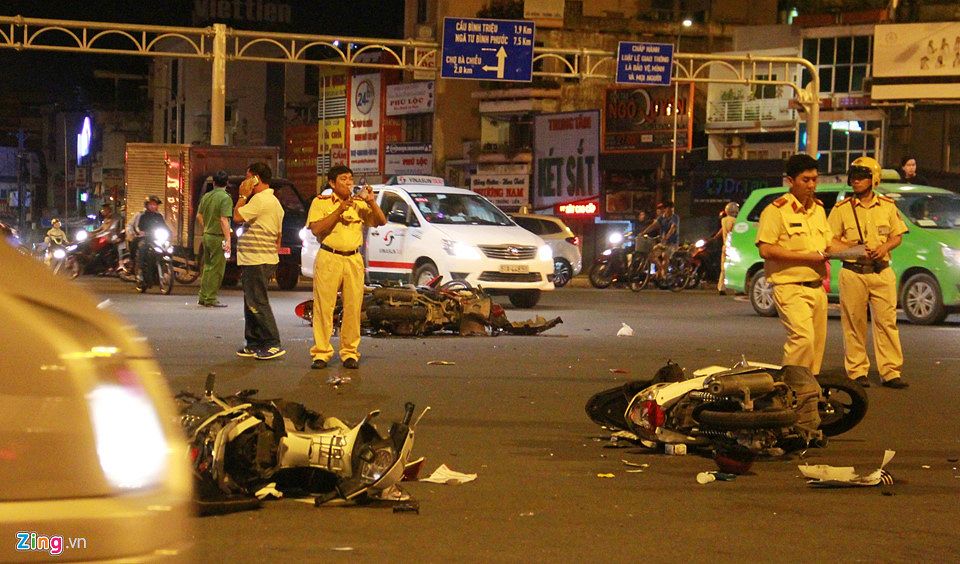 Officers from the Binh Thanh Police Department arrived at the crime scene and took the offending driver into custody for questioning. She was identified to be 46-year-old Nguyen Thi Nga, who lives in An Phu Dong Ward in District 12, but owns a restaurant in District 3. Nga was driving under influence, with a blood alcohol content of 0.94 milligrams per liter.
She told the police that before committing the accident, she had a few drinks at a party in District 1. While driving home, she fell asleep and lost control of her vehicle.
At the time of writing, five of the seven injured victims had only minor wounds and were released from the hospital yesterday. However, two motorcyclists suffered serious intracranial injury and are being treated in the ICU at Gia Dinh Hospital.

The site of the accident.
The incident has also sparked a debate in the public discourse regarding road safety and drunk driving. Most netizens are incensed at the reckless driver, urging authorities to impose harsh punishments to deter other drivers. A portion of commenters, however, were quick to latch on to the incident to berate female drivers.
According to Decree 46, which details punishments for DUI cases, drivers with a blood alcohol content of up to 0.25 milligrams per liter will be fined VND2-3 million and have their license invalidated from one to three months. If the blood content ranges from 0.25 to 0.4 milligrams, the penalties could go up to VND8 million in fines and from three to five months without driving.
In Nga's case, since her blood alcohol content exceeds 0.4 milligrams, she might have to face the highest rung of punishment: from VND16 to 18 million in fines and from four to six months without her driver's license. Moreover, as her offense led to one death and multiple serious injuries to others, it's likely that Nga will also be charged under Vietnam's Criminal Code.
Lawyer Nguyen Le Thuy, a former judge of the Ho Chi Minh City People's Court, told Tuoi Tre that traffic offenders might face up to five years in prison if they cause one death, seriously injure one victim that results in more than 60% disability, or seriously injure two victims that results in up to 60% disability.
[Photo via Facebook page Tôi Là Dân Thủ Đức]
---

Related Articles:
---