Vietnam is opening itself up as a destination for international-standard competitive cycling events. But can the momentum last?
From September 21 to 22, the second edition of the Coupe de Hue, which includes the Coupe de Hue Gran Fondo, took place in the central province of Thua Thien-Hue. And, in a major coup for the event, a former world champion and Tour de France winner, Cadel Evans, was on the starting line.
There as a guest of the race, he was one of over 250 cyclists — some on mountain bikes, but most on road bikes — who arrived in Hue to tackle what organiser's dubbed 'the most challenging race in Vietnam.' Aside from the satisfaction of competing in the first Union Cycliste Internationale (UCI)-accredited Gran Fondo in the country, what they got was a well-organised event that featured two days of incredible cycling in one of the most underrated and beautiful parts of Vietnam.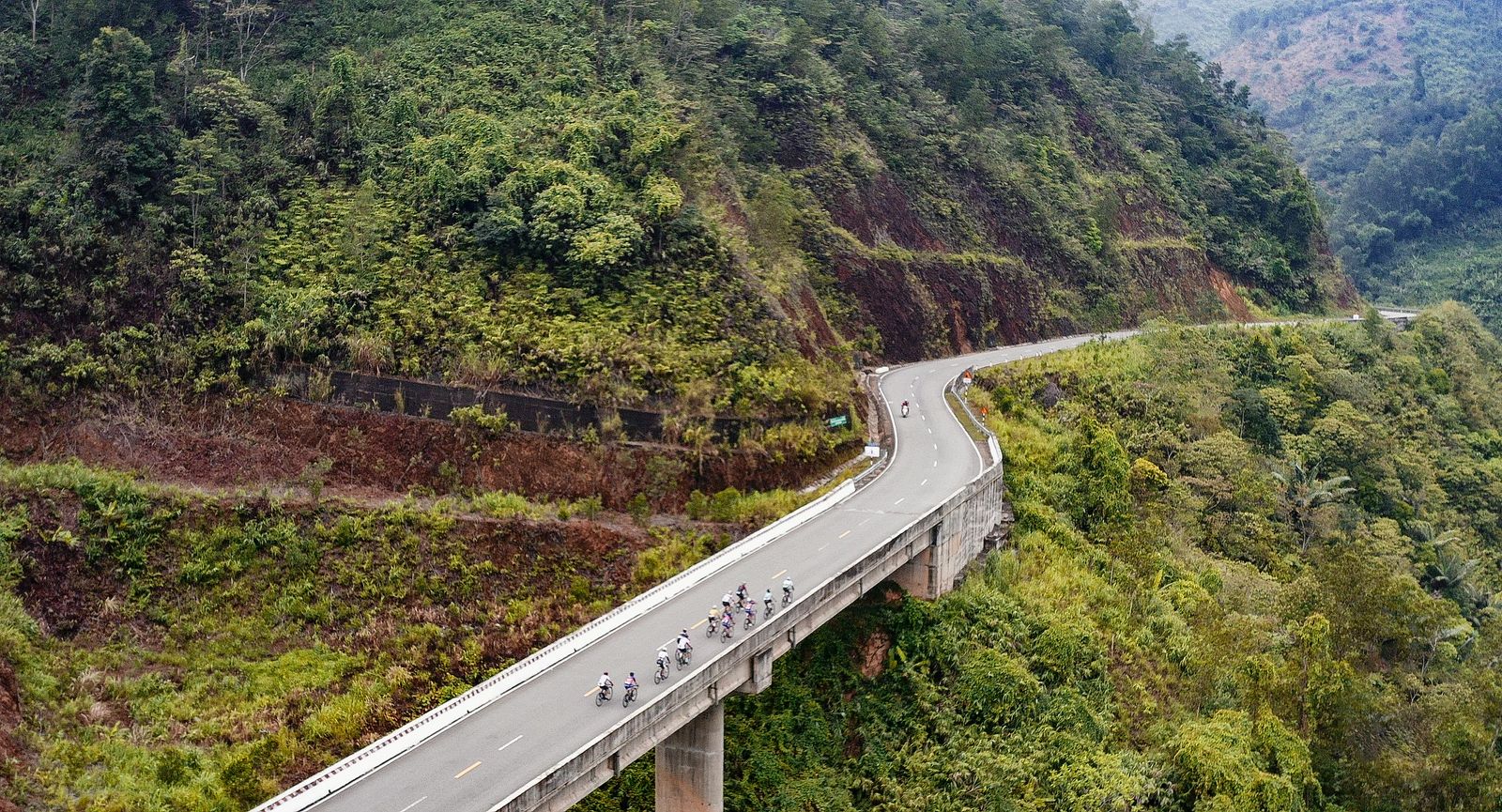 Launched in 2018, the latest two-stage Coupe de Hue was unrecognizable from last year's pilot. Then, around 350 mostly local riders were taken on a pan-flat 138-kilometer parade lap around some of Hue's most famous landmarks. This even included a ferry crossing of the Perfume (Huong) River — unusual for a competitive bike race.
This year, to attract a more serious level of cyclist, organizers employed the expertise of Race Director Guim Valls Teruel. Teruel is a long-term expat from Barcelona who runs a well-known bike shop in Hanoi and has literally cycled around the world.
Having also ridden in 2018, Teruel knew that from a cycling point-of-view, there needed to be improvements. Without a significant climb, for example, last year's event lacked the drawcard you need to motivate the region's army of lycra-clad enthusiasts.
"To get people to fly to Vietnam to ride their bike is a big obstacle," he told Saigoneer in advance of the weekend. "This is a brand-new event, with no history, and in a place that people don't know. So we needed to create something that would appeal to a rider's sense of adventure."
Bach Ma
To deliver that, and to encourage riders to part with their hard-earned cash — entry to this year's full event cost VND2.35 million (US$101) — Teruel looked at the landscape surrounding Hue for inspiration: rolling hills, mountain passes and stunning natural scenery.
Nowhere was this combination more irresistible than inside Bach Ma National Park, a 400-square-kilometer reserve halfway between Hue and Da Nang. Playing an essential role in protecting some of Vietnam's most endangered plants and animals, getting access to this highly sensitive area was arguably a bigger coup than attracting a former world champion. Cyclists are most definitely not normally welcome.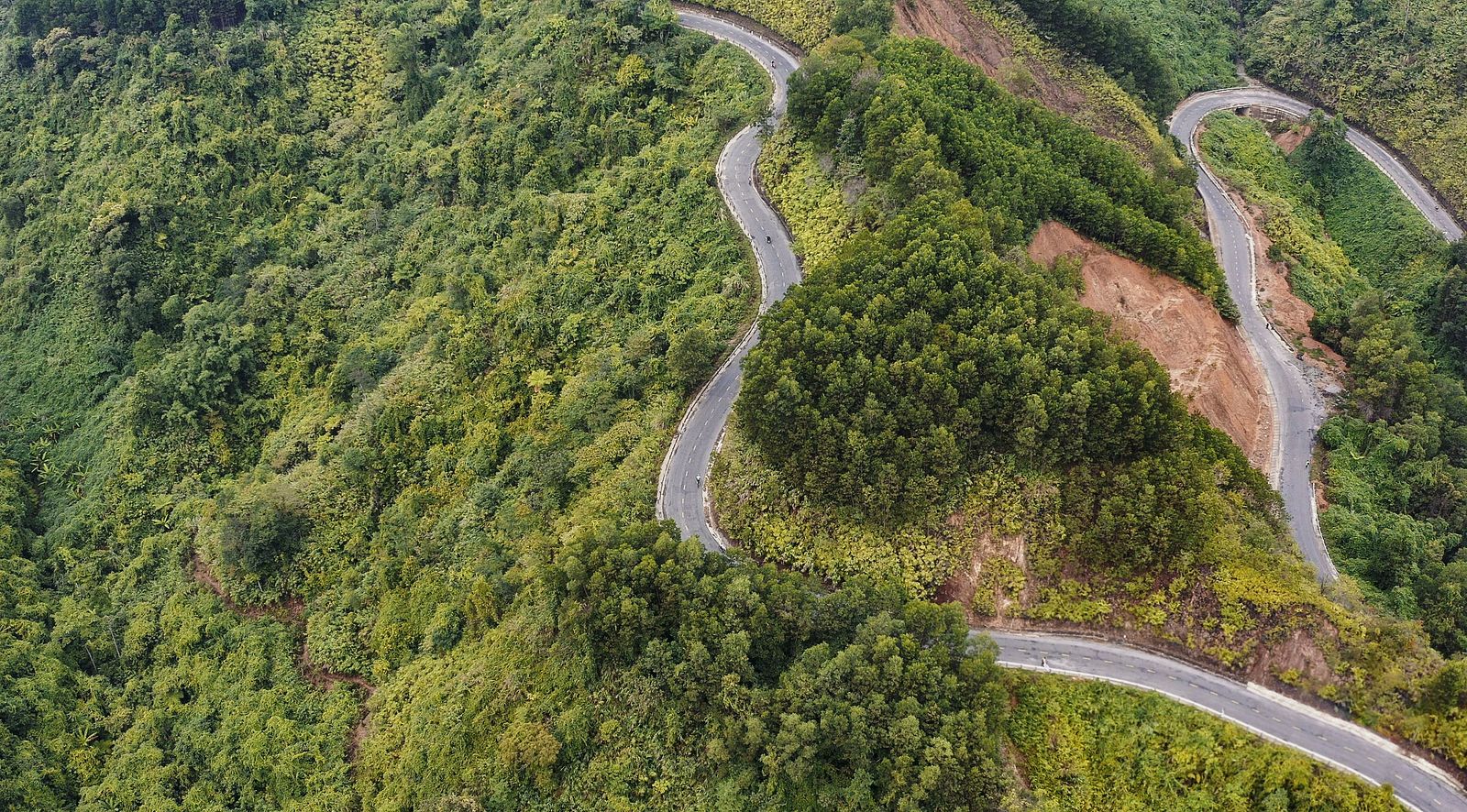 So, in addition to Sunday's main event, the 150-kilometer Coupe de Hue Gran Fondo, which took riders on an increasingly steep ascent from the Hue Citadel to the rural district of A Luoi and back, Teruel and his team added the Bach Ma Laguna KOM Challenge. (KOM stands for King of the Mountain.)
This was an unrelenting, 15-kilometer, 1,270-meter uphill time-trial that ended just before the summit of Bach Ma Mountain. In total, it meant that the 2019 Coupe de Hue included just over 3,000 meters of elevation and 165 kilometers of racing, a vast improvement on last years numbers.
"The profile of both of these stages is world-class," Teruel said after the event, buoyed by a cavalcade of positive reviews. "Bach Ma on its own is an astonishing climb."
He went on: "When I spoke to Cadel after his ride, he compared it to the level of the Zoncolan, which is a legendary mountain often used in the Giro d'Italia [one of three European grand tours]."
At an average gradient of 8.2%, this writer can attest to Bach Ma's difficulty. Reaching the summit felt like the end of a battle, though probably more euphoric.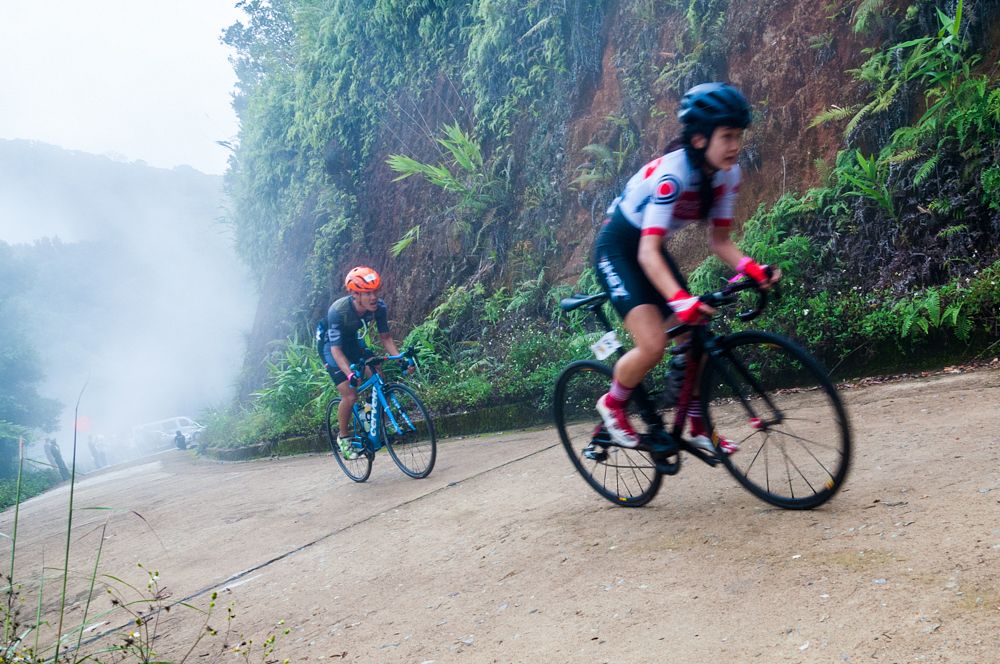 The biggest name in cycling to ever ride in Vietnam
As mentioned, the 2011 Tour de France winner and 2009 UCI Men's Road Race World Champion, Cadel Evans from Australia, was there as a guest of the event's main sponsor, travel company Indotrek.
Retired from the world tour since 2015, Evans still rides a lot. However, these days it's most often at events like the Coupe de Hue as an ambassador for his former pro team, BMC, the bike company based in Switzerland, where he still lives.
Having warned riders 'not to underestimate' Bach Ma at Friday's official race briefing, Evans still raced up it in 58 minutes and 29 seconds on a foggy Saturday morning.
It wasn't the quickest time of the day, that went to Spanish pro Javier Sarda Perez, at 56 minutes and 15 seconds, but afterwards, 42-year-old Evans said that he'd "love to do it again" and rated it one of the "hardest climbs in Asia."
"For me personally, I'd love to come back and do it again," he said. "Riding up through the jungle, up into the clouds and then above the clouds was fantastic. I loved it."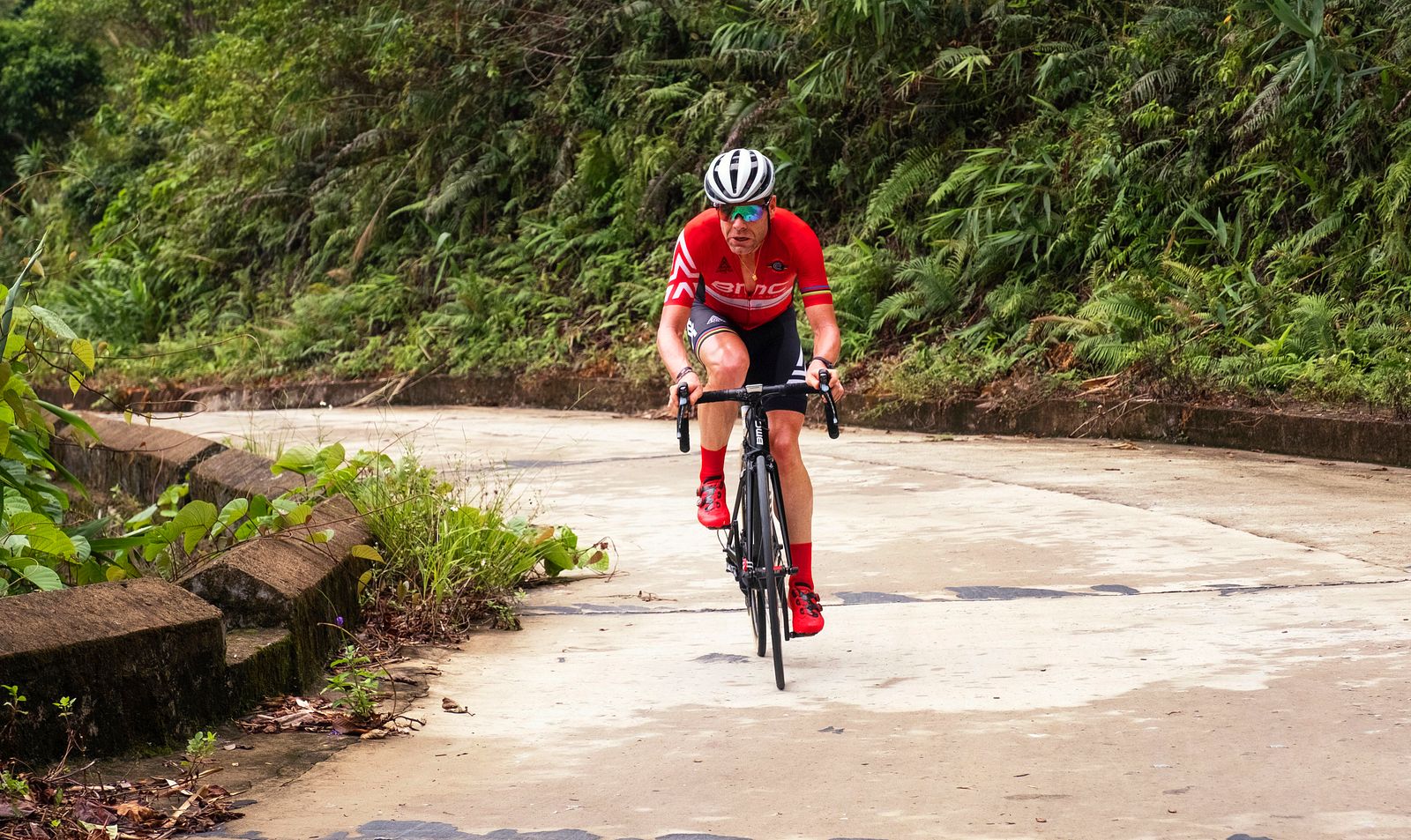 Of course, Evans' inclusion didn't happen by accident. It came about through a connection to BMC's consultant Head of Sport, Troy de Haas, another expat Australian now based in Hong Kong. He works with brands who want to get involved and invest in events like the Coupe de Hue and uses iconic athletes like Evans to 'globalize' their impact.
"The idea of coming to a race like this in Vietnam is about taking the sport of cycling and the brands of BMC and Cadel to exotic new locations," he said. "Cycling is becoming more and more global. Ten or 20 years ago it was still a very traditional European sport, but when you look at where the viewers come from today for events like the Tour de France, Asia is growing tremendously."
Asked whether BMC could get behind an event like the Coupe de Hue as a sponsor in the future, de Haas didn't give too much away.
"There are a lot of events popping up in Asia," he replied. "The Taiwan KOM is probably the biggest Fondo in the world right now, and I expect that more will happen over the next few years. Some do it right, others not as much, so we look at where we might be able to make an impact."
Watch this space then. Notably, he acknowledged cycling's ability to showcase a location, an important part of the Coupe de Hue's raison d'etre: "Where football gives you 90 minutes inside a stadium, a bike race can last for hours on TV."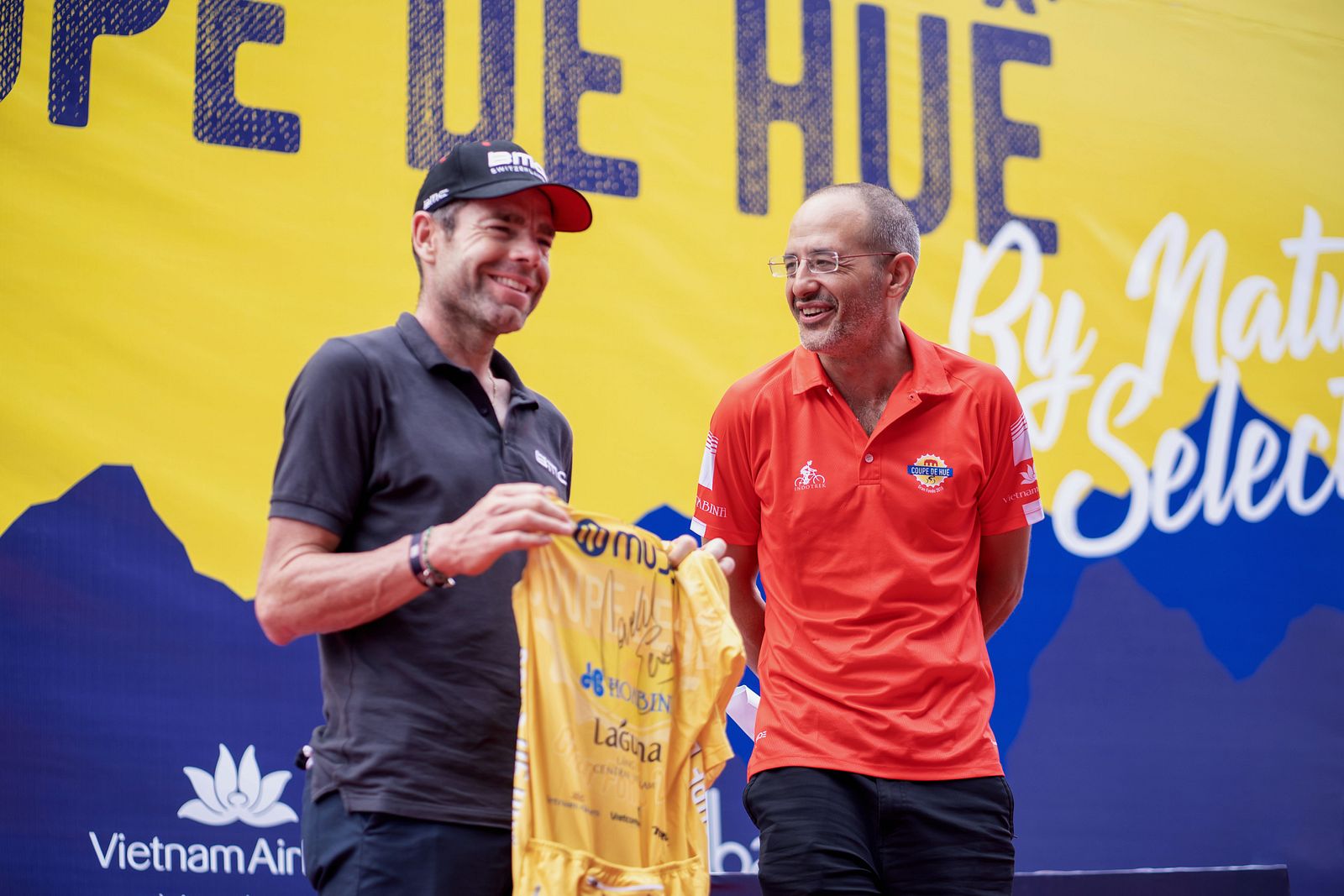 Sustainability
All too aware of the importance of having a major event to attract visitors is John Tue Nguyen, a passionate Hue local and the founder and president of Trails of Indochina, the parent company of Indotrek. He's been the driving force behind the Coupe de Hue's inception.
Nguyen desperately wants the event to succeed in his hometown, which he says is "not known" on the world stage. However, he's also aware that he can't afford to bankroll it by himself forever.
"I think the Coupe de Hue was a great success," he told Saigoneer not long after the event, "both from a professional standpoint and in terms of the exposure it gave to Hue. We now need to find a way to sustain this race in a boutique way, and we need to keep the professionalism really high."
"In my opinion, we can make this race the best in this part of the world, and keep it aimed at an international audience. That is where we can make the biggest impact to Vietnam," Nguyen added. "Having Cadel here has created a lot of momentum for the event, and helped to put Hue on the map in terms of the global cycling community."
Again, Nguyen stops short of committing to more races, and said he would go into a series of de-briefings over the next few weeks to determine the event's financial position. These will include meetings with the local authorities, whom he praised for their support of the event.
Asked about the race's UCI status — this year was the first time the sport's world governing body had officially recognized a race in Vietnam — Nguyen said it was important, but wouldn't commit right away to the hefty license fee involved in seeing the race included on their Gran Fondo World Championship circuit. "I think it would be amazing to see this happen in the future," he said.
Volunteering
Another feature of the race was the volunteers, over 200 of which lined the course, acted as safety marshals, and handed out water to thirsty riders. They, along with the hundreds of school children and local ethnic minority residents who waved and cheered in the villages, especially toward A Luoi along the border with Laos during Sunday's Gran Fondo, elevated the event to another level.
Just when riders may have been feeling the pain of another tough climb, the smiling faces of youngsters and their families was a welcome energy boost.
"This part of the race was overwhelming," said Evans. "Seeing all the people come out to support this event in Vietnam was wonderful. I hope the Coupe de Hue continues to get better over the next few years."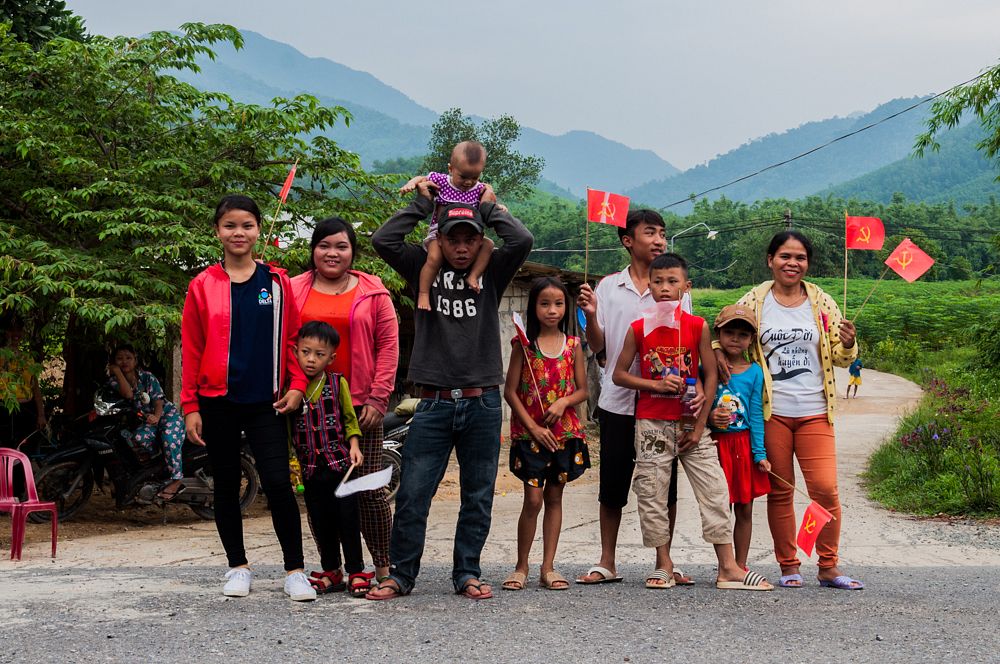 In total, 259 riders took part in the 2019 Coupe de Hue across three events (there was also a 70-kilometer Half Fondo). Of the riders, 102 were Vietnamese, and 157 were foreigners from 24 different countries. Javier Sarda Perez from Spain was easily the strongest rider over the weekend, winning both stages, while Michelle Tse from China was the overall winner in the women's category. You can check out the full table of results here, and we highly recommend these photos from the Hue, Truly Vietnam Facebook page.