Not all rice is cooked equally, or so goes the thinking behind a slew of new rice cookers in Japan that can fetch prices of almost US$1,000.
---
Related Articles:
- 19 Pictures of Wacky Japanese Vending Machines
- Dekotora: Japan's Truckin' Subculture
- Beautiful Japanese Rice Paddy Art
---
These premium rice cookers stem from what the Wall Street Journal calls a "national obsession with perfectly cooked rice," as they allow for granular control of boiling, steaming and storage. Oh, and some even have smartphone compatibility.
With the domestic market increasingly saturated, Japanese electronics companies have successfully targeted the droves of Asian tourists, especially Chinese, who have high disposable incomes and an insatiable appetite for rice cookers, heated toilet seat and hair dryers produced in the Land of the Rising Sun. According to the owner of one Tokyo electronics store, some Chinese tourists buy up to 20 rice cookers at a time to bring home as presents for loved ones and co-workers.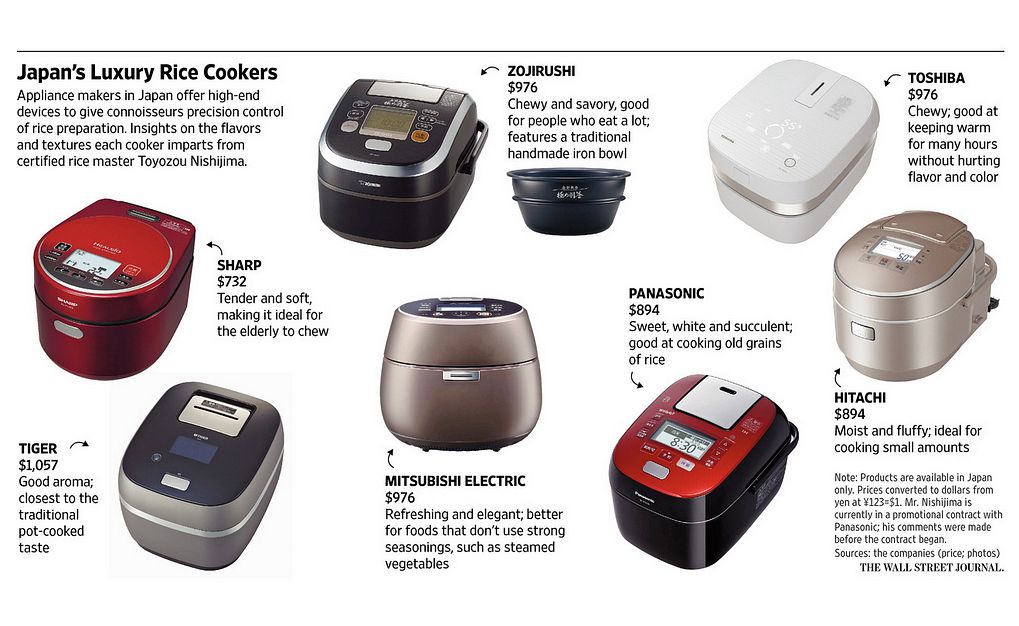 "Inbound travel to Japan has more than doubled to 13.4 million travelers in the 10 years ended 2014, according to Japan National Tourism Administration; travelers from Asia accounted for 81% of that total, with those from China numbering 2.4 million, four times the number of a decade earlier. The share of Chinese households with annual disposable income over $55,000 has tripled just in five years, according to data provider Euromonitor," wrote the newspaper.
But, at the end of the day, these rice cookers can't reach their full potential without Japanese rice, for which they are specifically designed says Toyozou Nishijima, who runs an 84-year-old rice shop in Tokyo. Nishijima recommends that people bring home not only the appliances, but also local grains.
"Otherwise it's like you bought a Ferrari but never drove above 40 miles per hour," he said.