Saigon's Tan Son Nhat is in dire need of an expansion due to overcrowding issues in the terminal, on the tarmac and even on the roads surrounding the international airport.
Last Thursday, a few senior officials from Hanoi got to experience firsthand how severe the problem has become in the southern hub when their plane was forced to circle around the airport for more than 30 minutes before it could land, reports Thanh Nien.
Vietnam Airlines chairman Pham Ngoc Minh and Director Lai Xuan Thanh of the Central Aviation Authority of Vietnam were among the officials traveling to Saigon to attend a meeting aiming to solve…the overloading problem.
According to Thanh, Tan Son Nhat is extremely overloaded, having served more than 15.7 million passengers in the first half of 2016.
"At the current pace, the number of passengers will reach over 31 million this year while the terminal is designed to serve only 25 million," he shared with the news source. "Tan Son Nhat is overloaded in the air, at the terminal and in the surrounding streets."
The parking bays at the airport are also struggling to keep up as there's only space for 51 aircraft, however current demand calls for 82 parking spots, reports Tuoi Tre. As a result, planes sometimes have to park on the runway which in turn makes those in the sky unable to land.
The direct solution to these overcrowding issues is Long Thanh International Airport, however this upgraded facility will not complete its first phase until 2025. By that time, Tan Son Nhat's passenger load will likely have reached 50 million a year, making it difficult for airport officials to maintain security, according to Deputy Prime Minister Trinh Dinh Dung.
Until the Long Thanh airport is finished, aviation authorities will have to come up with interim solutions to ease the overloading.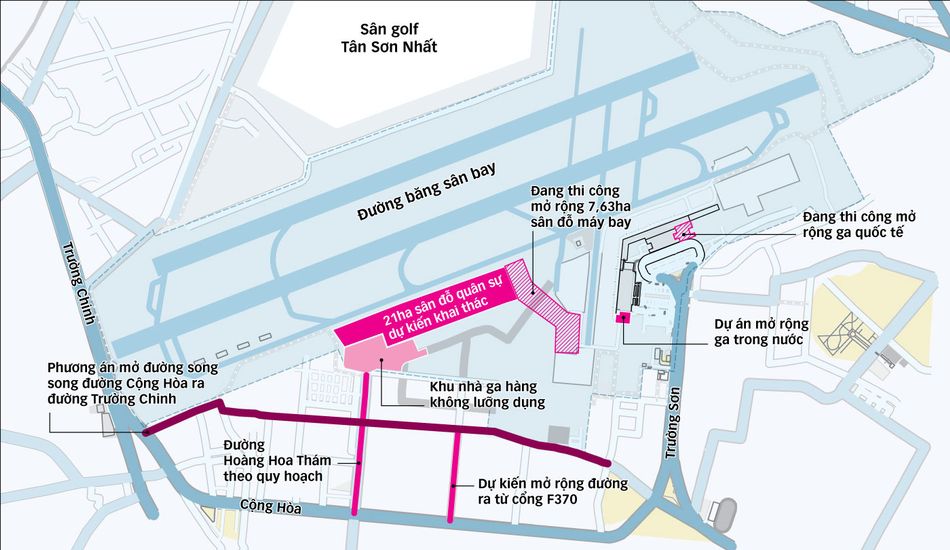 "We are studying construction of more terminals with an entrance from Cong Hoa Street to ease the overload on Truong Son Street. The airport can serve up to 40 million passengers a year with a new terminal and entrance," Thanh shared with the news source.
Other officials also suggested limiting personal vehicles on Truong Son to curtail traffic as well as building more structures like the 9.5-kilometer, US$672 million overpass municipal officials are currently considering.
[Photo via DHSaigon]
---

Related Articles:
---