In his comprehensive work The Past is a Foreign Country, American historian and geographer David Lowenthal contends that, even in spite of historical accounts, recollections and relics that contribute to our knowledge of the past, the past can never be truly or wholly known, as there is no way to falsify or validate experiences that no longer exist.
With this mindset, the premise of Saigon Blueprint seems like an artistic response to Lowenthal's insights. A collective project, Saigon Blueprint invites a cohort of artists to reimagine Saigon based on their recollections about the past, in the hope of uncovering their personal relationships to the city.
Founded by curator Nhung Walsh, director of Indochina Arts Partnership, Saigon Blueprint started its first project in 2016 with an exhibition from ThinkPlayground, a group of architects who created a playground for children to build their imagined cities out of cardboard boxes.
This year, Saigon Blueprint expands its scope by featuring a series of five mini exhibitions and a symposium hosted in several different art spaces across Saigon. These exhibitions showcase artwork and installations from artists Lys Bui, Dan Ni, Phuc Van Dang, Liar Ben, Ngoc Nau and Tran Minh Duc.
The project also invites architects Nguyen Hoa Hiep, Tran Hoanh, Nguyen Yen Phi, Son Dang and Atelier Tho.A to participate, along with two historians, Tim Doling and Phung Minh Hieu Corsi, as its advisors.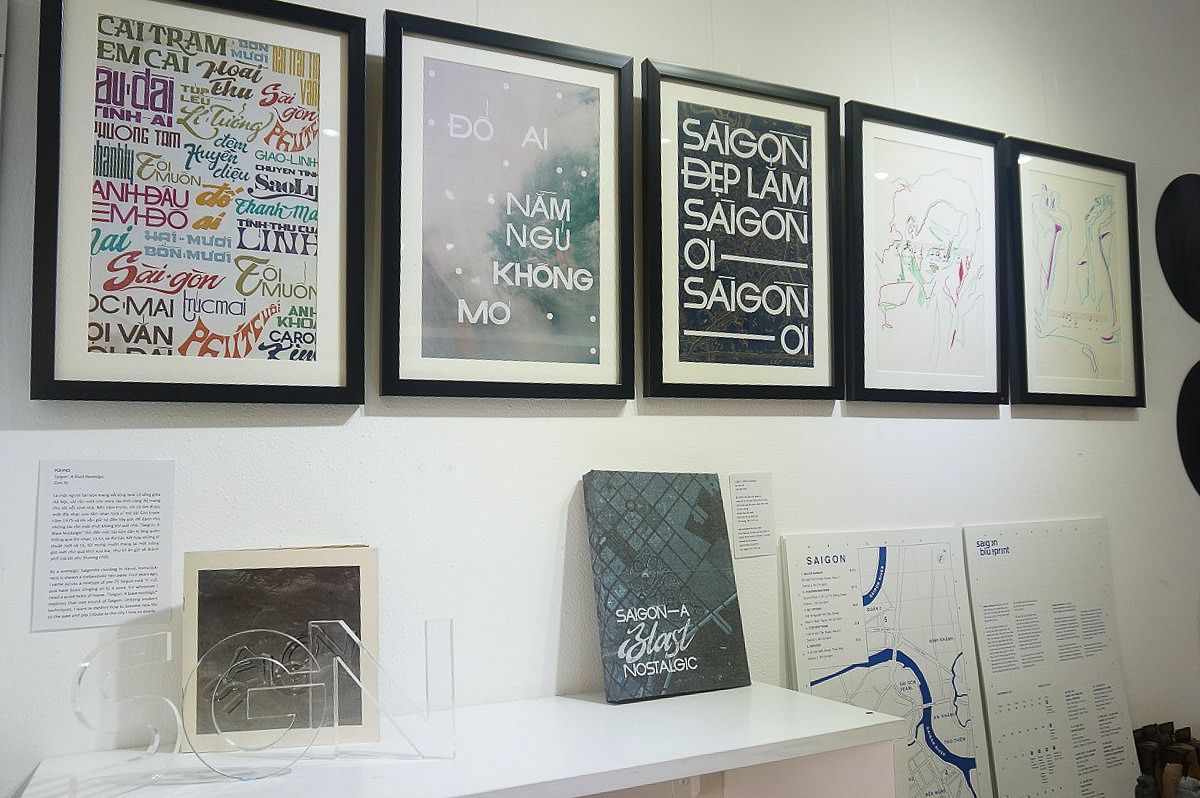 For Saigon Blueprint's curator, Walsh, the project came from a desire to hold on to memories of a city that is changing at a breakneck pace.
"In 2012, the revelation of Zone 9 in Hanoi made me realize the value of the preservation of old buildings by turning [them] into a cultural hub," Nhung tells Saigoneer.
Although spanning a variety of media and subjects, several recurring themes have emerged in these artists' work, including a spirit of place, the blurring of the public/private divide, nostalgia and immigration.
A joint installation by Phuc Van Dang and Liar Ben touches upon the concept of genius loci, originally a religious concept referring to a spirit as a literal figure that protects a place. The modern usage of genius loci often means "spirit" metaphorically and is an important concept in the arts and architecture. This can be seen in the duo's artistic materials: Phuc uses old wood boards as a reference to trees and nature, while Ben uses concrete from destroyed buildings.
"If the city is a forest, the way humans build this forest of concrete is very artificial, but the collapse of the city is completely natural," explains Ben. "Death, demolition is natural."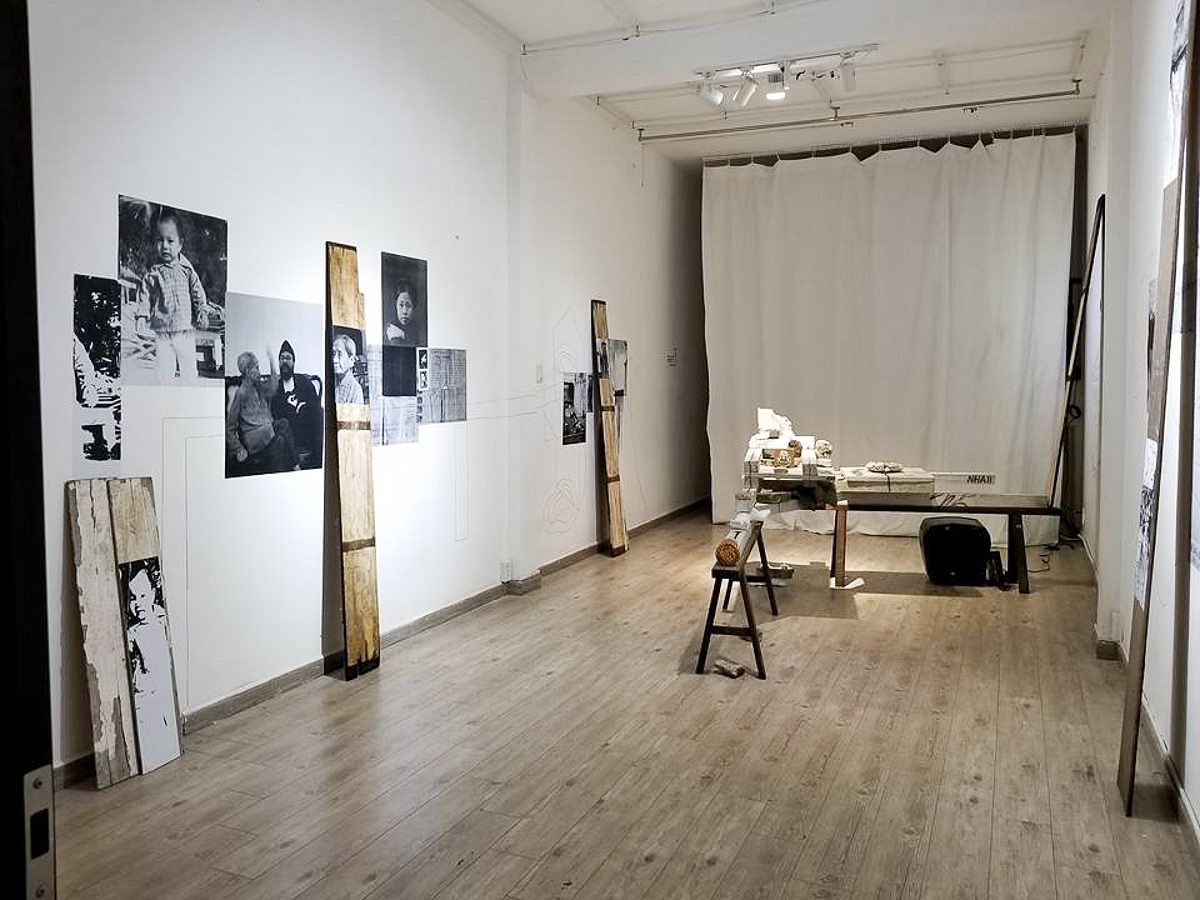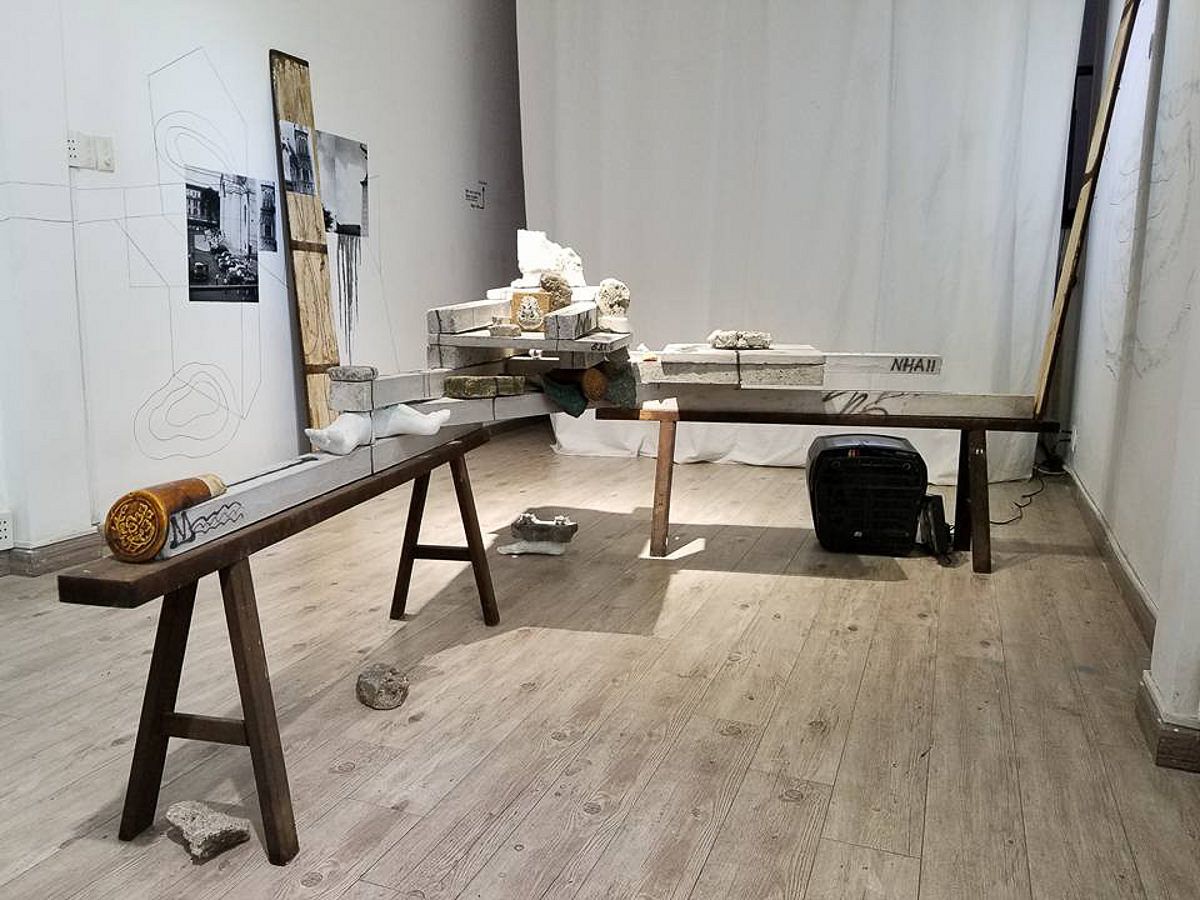 Duc's installation, called '10.5506° N, 107.0194° E', is located at A21 studio, the personal home of architect Nguyen Hoa Hiep, who built the house using materials from the remains of Ba Son shipyard after it was demolished for redevelopment. Duc's installation ties his childhood memories of hanging around Ba Son to this house, which echoes the same notion of genius loci, and crosses boundaries between the personal, the private and the public, all the while making a statement about the privatization of public assets in Saigon.
In Rewind Saigon by Lys Bui and Saigon Lost and Found by Dan Ni, both Saigoneers express their nostalgia via printmaking and sound. Bui, who now lives in New York, and Dan Ni, who has relocated to Hanoi, each capture their own reverence for their hometown. Bui's exhibition consists of a collection of silkscreen prints featuring illustrated buildings that no longer exist, from the historic Eden building to a random cơm tấm vendor she encountered a few years ago. Ni's main artwork features a songbook, in which he writes down personal reflections on each song.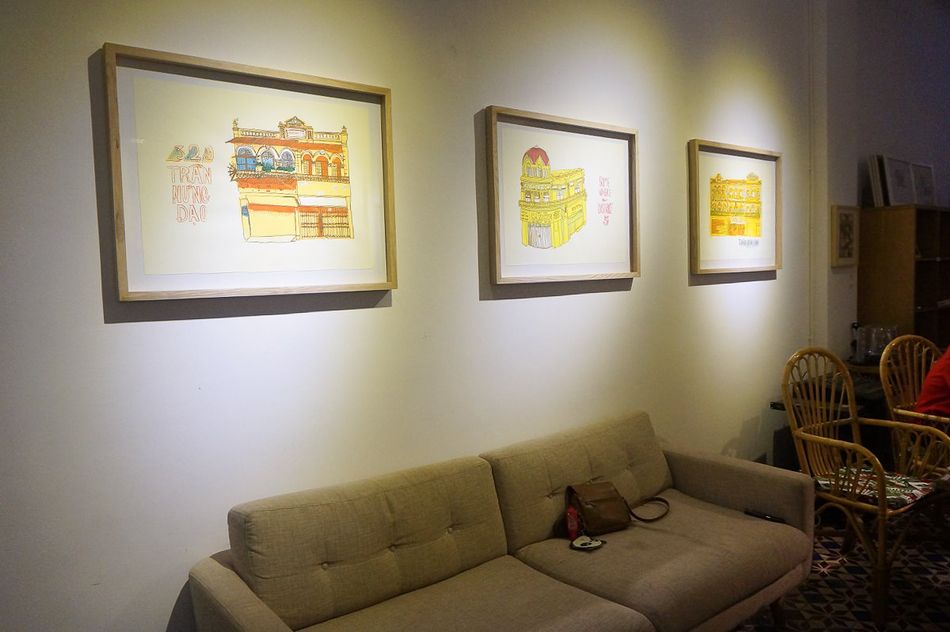 Ngoc Nau's open studio installation deals with a historical 1954 immigration, also known as Operation Passage to Freedom, in which over 1 million people, many of them Catholics from Ninh Binh and Nam Dinh, migrated south following the partition of Vietnam as a result of the Geneva Accord. At that time, programs were developed to resettle these people into a new economic system, however some of these programs failed to come to fruition. Ngoc captures this failed hope and disappointment by including floorplans from an affordable housing architecture contest that was meant to accommodate these migrants but never became a reality.
"I think that how Saigon is changing today bears a close relationship to this event, in terms of infrastructure, population and humans so I have to trace back to these people's roots, which are in Ninh Binh," Ngoc explains. She goes beyond merely illuminating the past but ties these historical facts and the past sentiment of the incident to contemporary elements such as pop culture, memes, selfies and patches, playing with the idea of anachronism and how past references and materials get recycled in popular culture discourse.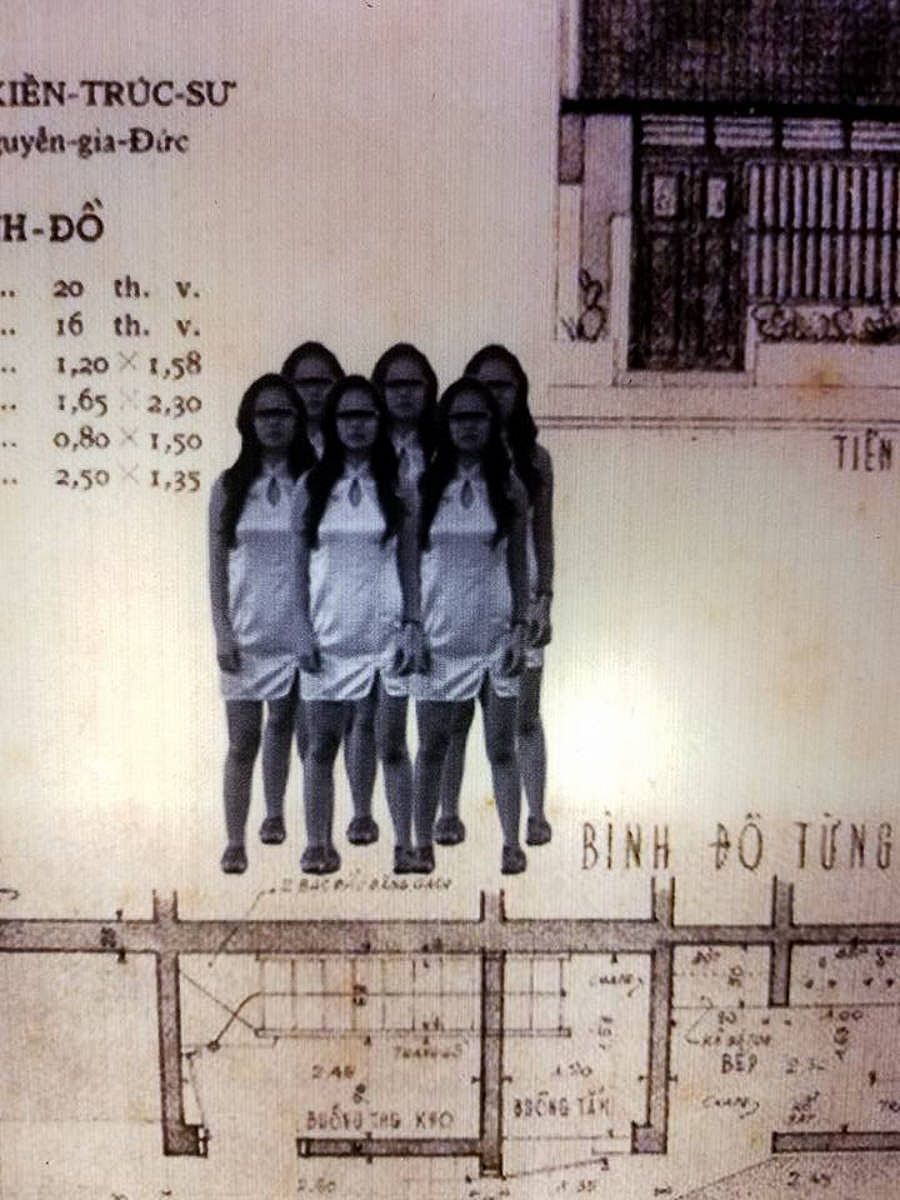 A vivid example of this is the video in which Ngoc juxtaposes the imagery of pop culture artifacts from Ninh Binh, including the recent film Kong: Skull Island, with footage of the area's Catholic community. By combining these elements, it's easy to see how the Kong film decontextualizes Ninh Binh to become only beautiful scenery for visual pleasure, and how the movie silences its indigenous subjects, the villagers.
There is also a utopian feel to both Ngoc's open studio and the exhibition series overall. Perhaps, as American historian John Bodnar once noted, collective memory, or the social construction of it, is less about achieving an accurate representation of a past, but more about voicing the needs of the present and what lies ahead for the future.
The Saigon Blueprint exhibition series will be open until December 31, 2017. Check out more details on the exhibition on Saigon Blueprint's Facebook page here.
---

Related Articles:
---