Anita Wilczęga sits on a stool in Tinh Dau art studio, trying to explain the final project she'll curate in Vietnam before departing for Italy. Behind her, ten white boxes hang from the rafters, swaying gently in an electric-fan breeze.
"The idea behind synescape," she said after a pause, "is for people to come into this space and discover 10 objects they might recognize from everyday life. By touching them, and interacting with them in different ways, they are able to trigger different sounds and elements of the video installation."
If that sounds complicated, that's because it is. There's no one word or phrase that can be used to describe the project, even the title of the event requires clarification. 'Synescape' is a combination of the word 'synesthesia' – the perception of one sensory experience via another – and the suffix 'scape', which refers to scenery. One thing that is clear, though, is that audience interaction forms the oxygen of the entire project.
"We decided to make a hybrid between an installation piece and an exhibition in which the installation only really exists when the visitors are there and they create," she said. "Through their participation, the installation comes to life."
Earlier this month, a live performance in Tinh Dau from singer Linh Ha introduced local audiences to the project. As she ran her fingers across black conductive paint on a suspended screen, her pre-recorded vocals were triggered while Wilczęga's visuals traced across the painting. In this weekend's installation, it's visitors to the event who'll be invited to touch objects and trigger sounds and visuals.
Wilczęga, who makes up one half of artist duo 2nanas, is collaborating with sound artist Alistair Hobson for the first time on this project. It was Hobson who first approached her with an idea that he was unsure how to fully develop. "He wanted to collaborate on a bigger scale to create a full, interactive exhibition, not only including sound, which is what he works in, but also video, which is mostly the medium I've been working with," she said.
Two years ago, Hobson bought a little-known device, created by Japanese sound artist Yuri Suzuki, called an Ototo. This piece of equipment, he said "enables its users to trigger sound and vision by touching objects that conduct electricity. The typical example is connecting it to fruit, plants or metal objects and then playing them like a keyboard."
In their installation, the device is connected to everyday objects in the suspended white boxes. The exhibition revolves around these 10 objects, half of which are associated with nature and the rest with the manmade world. The visuals triggered correlate to the nature of the object being touched – the natural objects control natural elements within the video, whereas the manmade objects control the digital effects.
Hobson tried to create sounds from the perspective of the object. "If you were a metallic chain what would it sound like if someone grabbed you?" he said. "But also from the user's perspective as an exaggerated version of reality, as if your own senses have been heightened or if you could somehow hear sounds on a different spectrum. In the example of the water, if you were shrunk down to a microscopic size and were placed in the bowl. How would that sound?"
An installation of this kind has never taken place before in Vietnam. "The technology we are using has been on the market for only a limited time," claims Wilczęga. "Al bought the machine 2 years ago, but it's not on sale anymore. From what we've found on the internet, it hasn't been adopted in art in such a way. Mainly in simplistic ways – a lot of videos presenting just one object. There hasn't been a fully developed concept behind any of the events that we've seen."
Suspended at head height, the white boxes resemble mini versions of white-walled cube galleries. With everyday objects like plants and wrenches framed inside – all painted in black conductive paint – they appear in stark contrast to the vibrancy and warmth of the surrounding gallery. And that's the whole point. They hang equidistant from one another, just as art would appear in a gallery space. Yet, whereas in traditional exhibitions the audience is forbidden from touching the artwork, in this case, the audience is invited to touch the contents of each box.
The importance of the venue couldn't be more apparent. The space, and the entire Sixty Square courtyard, is so hip there's a sense they might only allow you in if you're wearing skinny black jeans, circular rimmed glasses and own a film camera. Yet it's the openness of owners Nguyen Dang Duc Minh and Nguyen Hung Giang that allowed 'synescape: please touch' to take place at all.
"It's a special place," said Wilczęga. "When we first came with Al to talk with Minh and Giang, they were just finishing the studio, it hadn't opened yet. It already had a special atmosphere, and just by talking to them, I knew that this is it. They've been really supportive throughout the whole project, they've been helping us a lot, not only with promotion but also with the set-up, and honestly, this event probably would not have happened if it wasn't for them."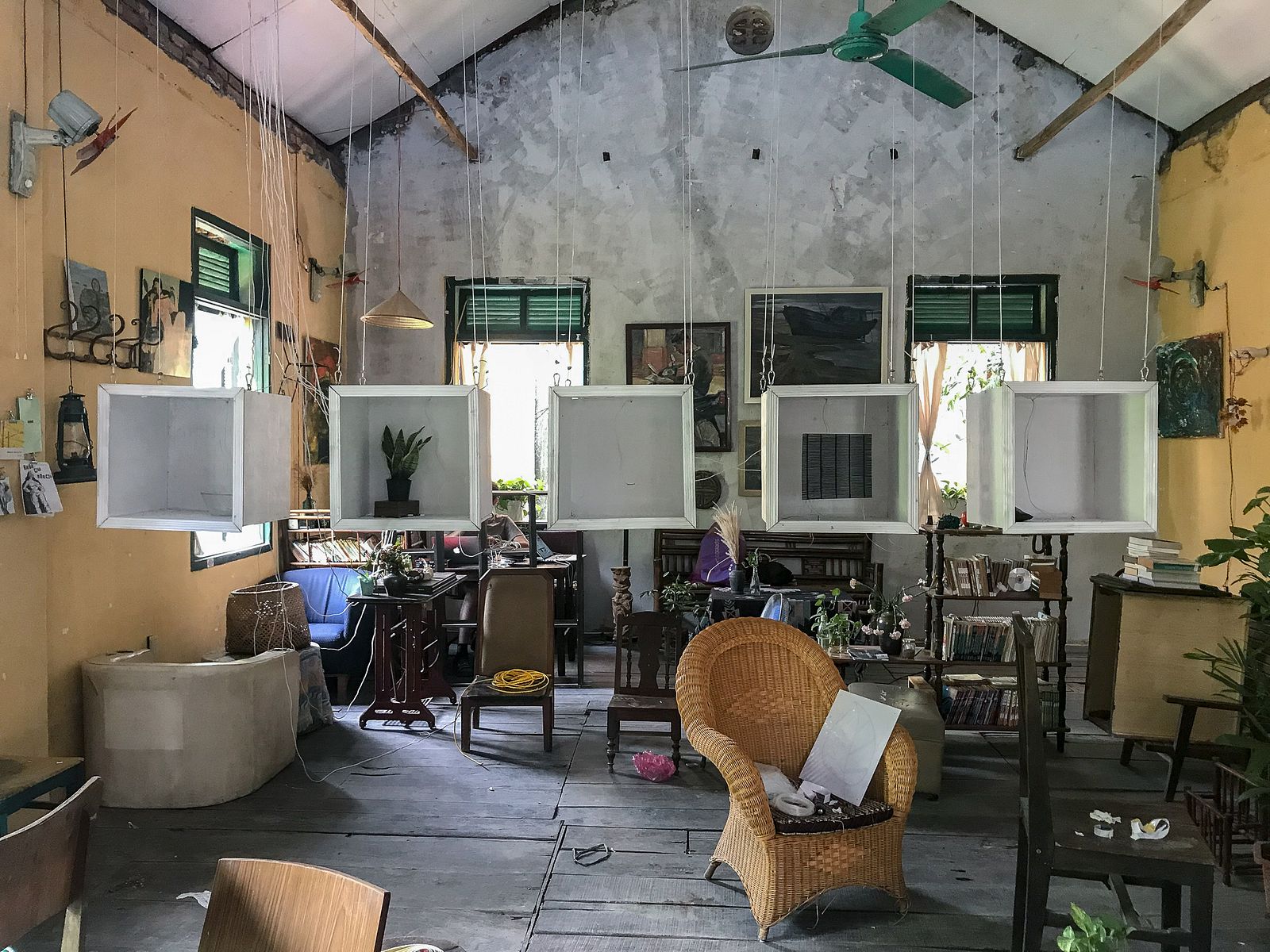 Around her installation lies the jumbled gallery – a clutter of paintings huddle beside saffron walls and green shutters while in one corner, erect scaffolding left behind after the renovation supports a hammock. Near the stairway entrance, a red neon sign reads cô đơn, the Vietnamese word for loneliness.
"It works better in a space like this than a white-walled gallery," concluded Wilczęga. Just like the event itself, holding it in such a venue "breaks the convention" of art installations.
'Synescape: Please Touch' begins this weekend. The opening hours are Friday from 7pm-10pm and Saturday & Sunday 10am-12am, 2pm-4pm, 6pm-10pm. Find Tinh Dau at 60 Tho Quan. For more detail about the event check 2nanas Facebook page.
---

Related Articles:
---