Following an international outcry that began in 2016, the UNESCO biosphere reserve recently closed the show.
Over 40,000 activists signed a petition sponsored by rights group Animals Asia, which helped motivate Vietnamese authorities to put an end to shows that forced 200 captive macaques to ride bicycles, walk tightropes and leap flames all while wearing absurd children's clothing. While in operation, the animals could be seen tugging at their leashes to avoid strangulation and chewing on their feet — a telltale sign of distress.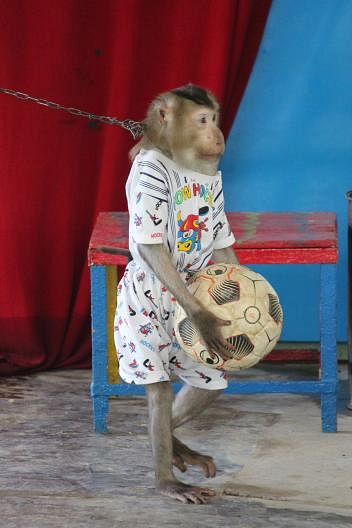 Deputy Director of the Can Gio Biosphere Reserve Le Van Sinh explained: "We received feedback from Animals Asia and the public against the use of wild animals and came to realize that it is both unnecessary and inhumane to treat animals this way…We asked the Ho Chi Minh City's People Committee and the city's Department of Agriculture and Rural Development to stop the circus. The city government recognized the negative impact on the city's tourism and decided to have the circus closed down."
Can Gio is a large mangrove ecosystem sometimes referred to as the "green lungs" within the industrial area surrounding Saigon. It contains more than 200 species including thousands of the same type of macaques that were used in the circus.
UNESCO is a United Nations agency dedicated to education about and preservation of natural sites that are of "universal" value. They establish and support parks that "contribute appropriately to conservation...and scientific understanding." Having an exploitative monkey show hardly seems in line with those efforts. As Animals Asia's Animal Welfare Director Dave Neale explained: "There is still widespread confusion in Vietnam about what constitutes animal cruelty and the fact that a UNESCO-accredited facility hosted a macaque circus really muddied the water for a lot of people."
While the shut-down reflects positively on Vietnam's commitment to curbing animal abuse and protecting its wildlife, the suffering continues for many species, including the macaques used in the Can Gio circus. They are owned by the Long Phu corporation which specializes in animal performances in tourist destinations like Nha Trang.
While many such places provide entertainment through animal maltreatment, things are changing. Earlier this year, Saigon's Dam Sen Park was pressured into halting the use of elephants, orangutans and bears in their circus. Neale describes the current situation thusly: "Vietnam is very much at a crossroads in terms of animal performance. The industry could die out as the country develops and people seek modern and cruelty-free forms of entertainment – or it could expand and become an entrenched industry if companies see potential profit and choose to invest.
In the space that held the show, Can Gio Biosphere Reserve plans to create a public education center on the area's American War history.
[Photo via National Geographic]
---

Related Articles:
---