The Saigon Zoo's giraffe household recently welcomed another family member.
According to Sai Gon Giai Phong, a giraffe at the Saigon Zoo and Botanical Gardens successfully gave birth to a baby female giraffe back on October 20 this year, but the zoo administration only organized a welcoming event for the calf on November 24.
The calf's parents, both around six years old, were imported from Thailand four years ago, and she is their firstborn. The mother was pregnant for 15 months prior and took two hours to deliver to the beautiful female baby, which weighed 40 kilograms at birth. After a month, she's now 60 kilograms and two meters tall.
According to Pham Anh Dung, vice director of the Saigon Zoo, the baby giraffe is still breastfeeding, but she's shown some interest in harder foliage around the exhibit. As this was her first experience with motherhood, the mama giraffe struggled with childcare at first, but grew into the new role a few days later, the news source reports.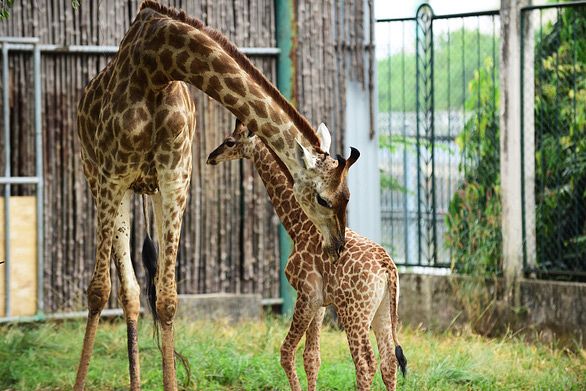 Back in 2014, an Indochinese tiger at the Saigon Zoo successfully gave birth to five cubs, the most delivered at the facility in two decades. The 10-year-old tigress is originally from Hue, while the seven-year-old father hailed from the Hanoi Zoological Gardens. Her gestation period was just 104 days, much shorter than that of her ungulate neighbor.
Alas, Vietnam is not that fortunate when it comes to baby elephants. Back in September 2017, the Dak Lak Elephant Conservation Center was eager to welcome a new calf after two years of waiting. The mother, named Ban Nang, was the first domesticated elephant to become pregnant in 30 years in the country. The Dak Lak People's Committee even granted Ban Nang's owner US$7,500 to care for the expectant mother.
In the end, Ban Nang eventually went into labor in October the same year, but unfortunately the elephant calf, named Pac On, was already dead in the womb.
[Top photo via SGGP]
---

Related Articles:
---