Editor's note: Happy April Fools' Day! This article was part of Saigoneer's 2019 April Fools' Day celebration. This is a work of fiction. Names, characters, businesses, places, events, locales, and incidents are either the products of the writer's imagination or used in a fictitious manner.
In the latest and greatest example yet of Vietnam's ravenous appetite for football, the country erupted with joy at the close of the U-12 World Championships.
The final, held last night in Dushanbe, Tajikistan, saw the boy's U-12 squad beat San Marino in a thrilling 1-0 victory. The tiny European city-state had qualified for the tournament after topping the Countries With Fewer Than 1 Million People League.
Both sides attacked throughout, with Vietnam finally breaking through in the final minute when Nguyen Van Huong headed home a stunning free kick from Nguyen Van Troi. Huong, the team's star, maintained a relentless pace from the start, even though he had been up late the previous evening studying for a math test.
Unsurprisingly, millions took to the streets here after the final whistle — literally all 95 million people in Vietnam, in an apparent effort to one-up previous instances of đi bão.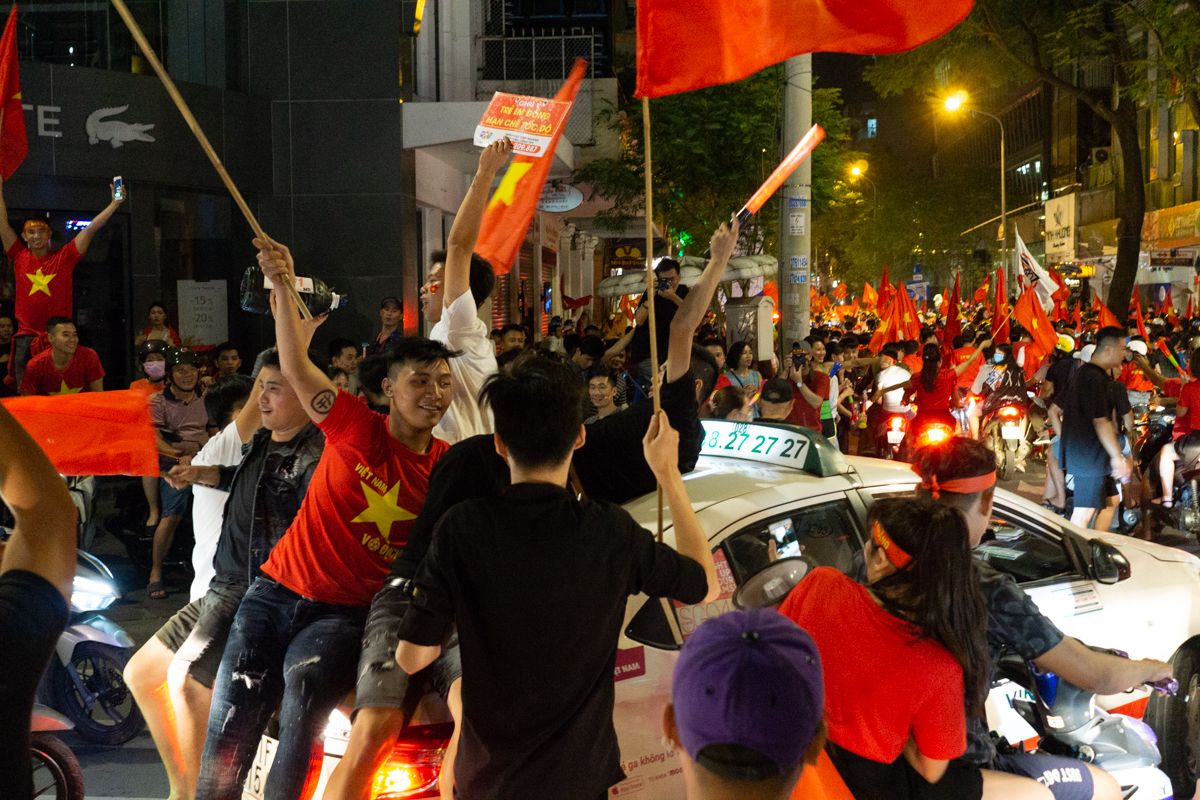 Binh Minh, for example, drove his cement mixer truck into central Saigon to join the crowds. "I knew the streets would be packed," he told Saigoneer from his cab. "Now that I'm stuck, I dumped a bunch of cement out behind me, and it will dry before the crowds disperse, so later I'll climb on top of the concrete pile for a great view."
"Also my cousin made it into the media last year when he drove a steam roller during a đi bão, so I want a share of the spotlight too," he added.
Nguyen Chi Lam, another innovative fan, commandeered a Saigon Waterbus, ensuring that the party extended onto the river as well. "I do wish there were more stations so I could pick up more people," she said. "But it's great getting away from the traffic, and we might even sail all the way to Vung Tau!"
Tan Son Nhat International Airport, meanwhile, was thrown into chaos both during and after the match. Air traffic controllers had switched their radar screens to the feed from Dushanbe, forcing flights to circle the city. Once Vietnam won, airport staff stormed the runways with baggage carts, aircraft stair trucks and buses which normally transport passengers from the terminal to their plane.
When told of this development after their victory, one U-12 player said: "I just hope they finish celebrating by tomorrow so we can fly home. We have homework to get to."
Perhaps the most visually striking đi bão occurred in Hanoi. Thousands of children paraded around Hoan Kiem Lake in electric toy cars in a spectacle to rival Rio de Janeiro's annual Carnival.
The U-12 boys will look to defend their title at the next World Championships, to be held in Roswell, New Mexico next April 1.
---

Related Articles:
---