This evening, American illustrator and street artist Kristopher Kotcher AKA Frenemy is bringing his work back to Vin Gallery with a new exhibition, Trialogue. It has been almost a year since his first show at the gallery, but this time, he will have two Saigon-based street artists joining him – Holm and Phan Minh Tuan AKA Liar Ben.
Related Articles:
- Artist Spotlight: Kristopher Kotcher
- Licence 2 Draw: UuDam Tran Nguyen Brings Robotic Art To Vietnam
- Event Rewind: The Saigon Projects 5 Year Anniversary Party

---
While I wait for Kotcher and Holm to join me for our interview, in my head, I quickly run through the abundance of graffiti and street art that has appeared in Saigon over the past year and wonder if these changes have had any measurable improvements or impact on the artists' lives.
This is the first question I pose to them when they arrive from Just Writing My Name (a global street art event promoted by Montana Spray Cans, which has recently entered the Vietnamese market).
"No, it has not really improved. It is true that now we have spaces like Saigon outcast and 3A Station, but galleries do not show street art," answered Kotcher.
"It's different if you exhibit your art at a gallery rather than on a wall because galleries can provide curatorial support, sell your work and reach a different audience that wouldn't usually see graffiti and murals."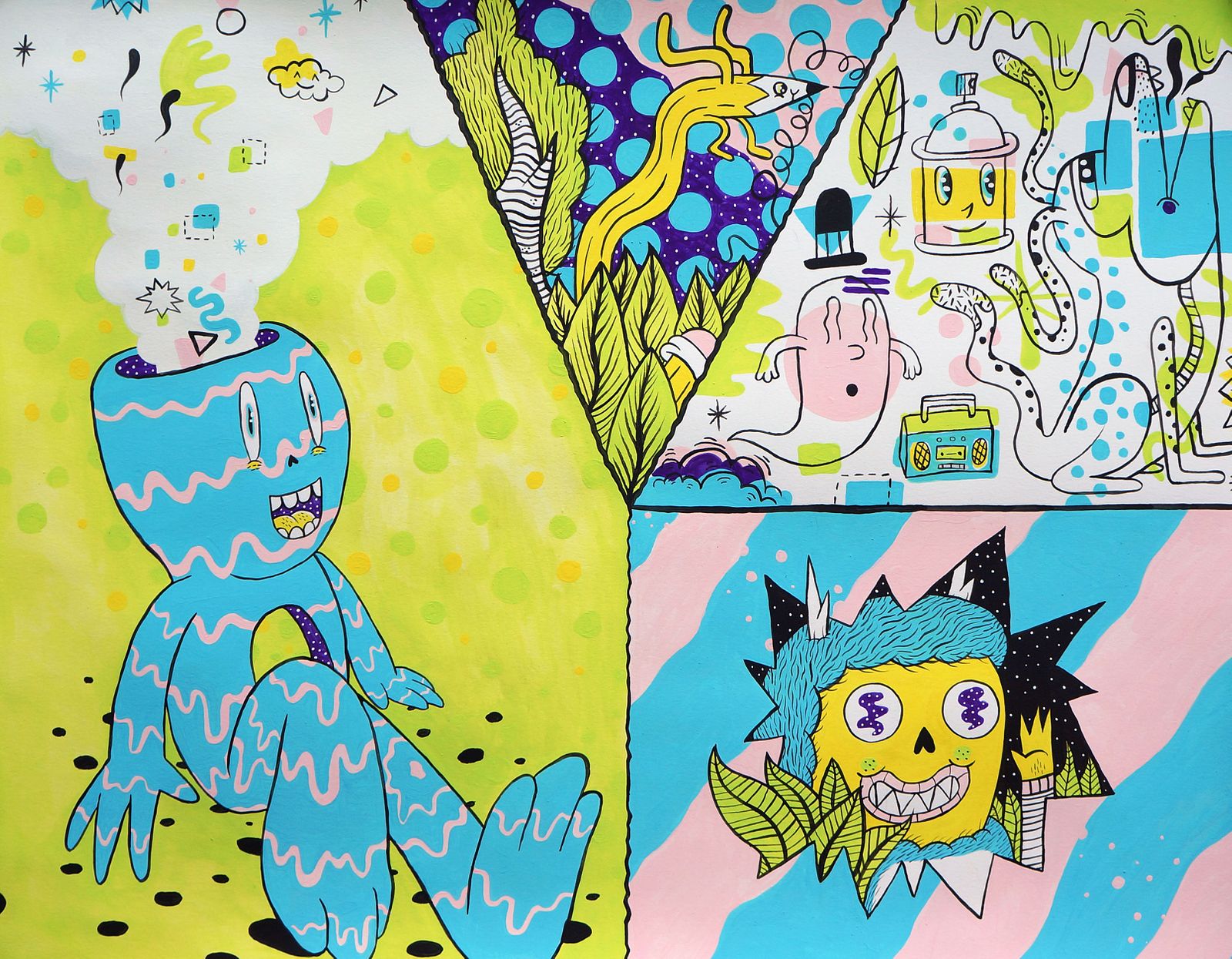 One of the goals of Trialogue is to create a dialogue with other local artists working within this often-overlooked art form. Kotcher was initially offered a solo show but opted to include Holm and Ben so that a diverse audience could access their creativity.
The show includes eight artworks by Holm, three by Ben and 13 by Kotcher, in the form of drawings, paintings, mixed media and illustrations.
The space will be divided into three distinct sections to highlight the different styles of each artists, making Trialogue more of a choral exhibition rather than a group one, "the common thread is that we are all street artists but with different backgrounds and styles," said Kotcher.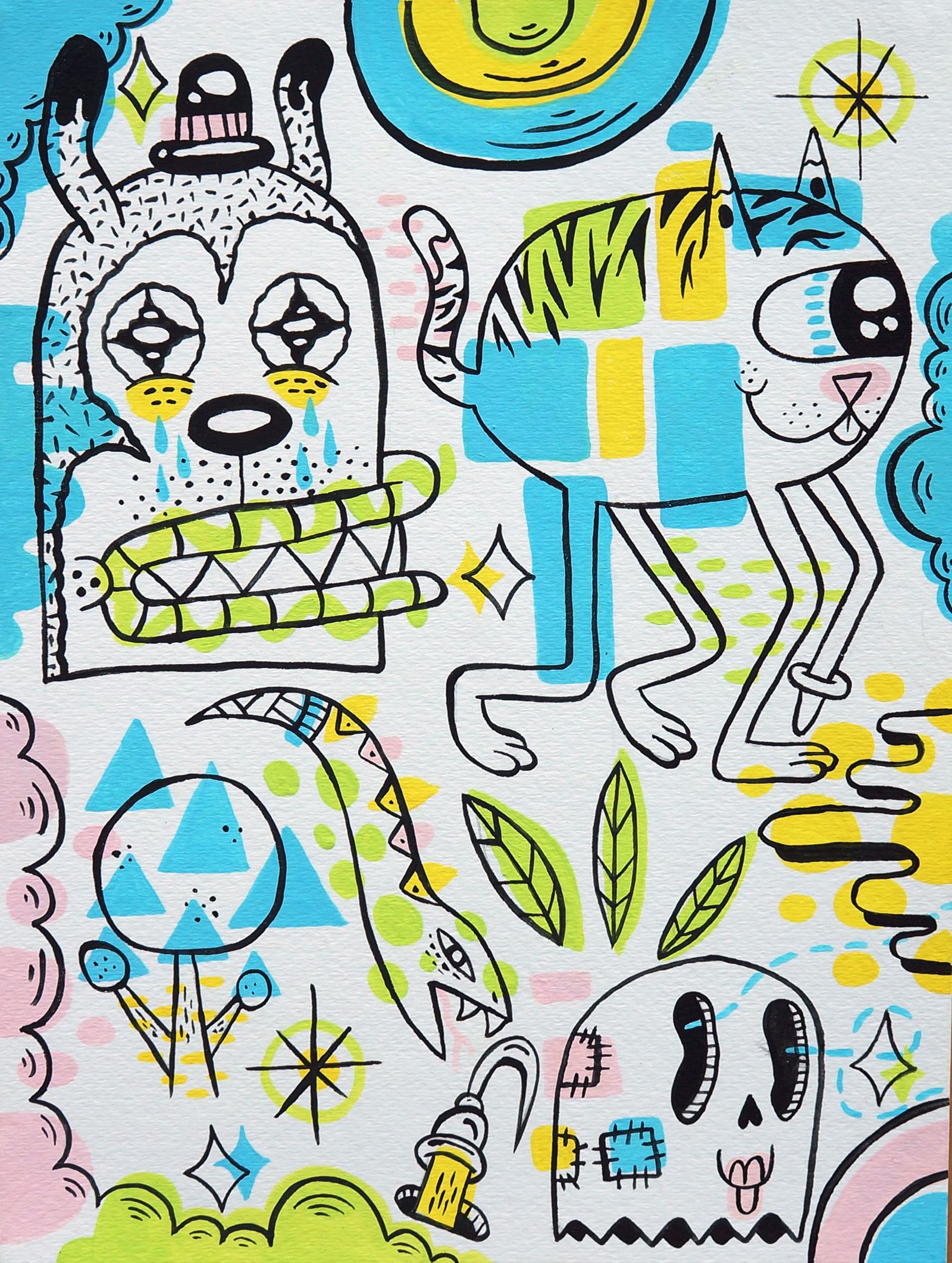 Kotcher has positioned himself as one of the most proactive in Saigon. Alongside his own solo exhibitions, he was one of the three artists featured in the third edition of the Saigon Artbook and has collaborated with local schools with the aim of engaging young children through making and discussing art.
The American artist is probably best known for creating magical worlds in which playful and colourful monsters come to life. The stories that unfold through his illustrations and drawings are rooted in both the worlds of graffiti and children's illustrations. "For this show, I have introduced new characters that conceptually come from indie comic books. They are divided into sections rather than scenarios. But this work is still a progression from my previous ones; it is about creating a new world that, like our real world, develops and changes."

In the past, Holm participated in-group exhibitions in his native Germany; this will be his first show in a gallery since he moved to Vietnam almost two years ago. Holm began painting as a child, but his interest in graffiti surfaced around the age of 10 when he noticed murals around town. "The problem is that in Europe there is often a gang mentality surrounding street art and I did not fit into that, so I took a break for few years. It wasn't until 2002 when I got back into it after seeing a Banksy stencil mural."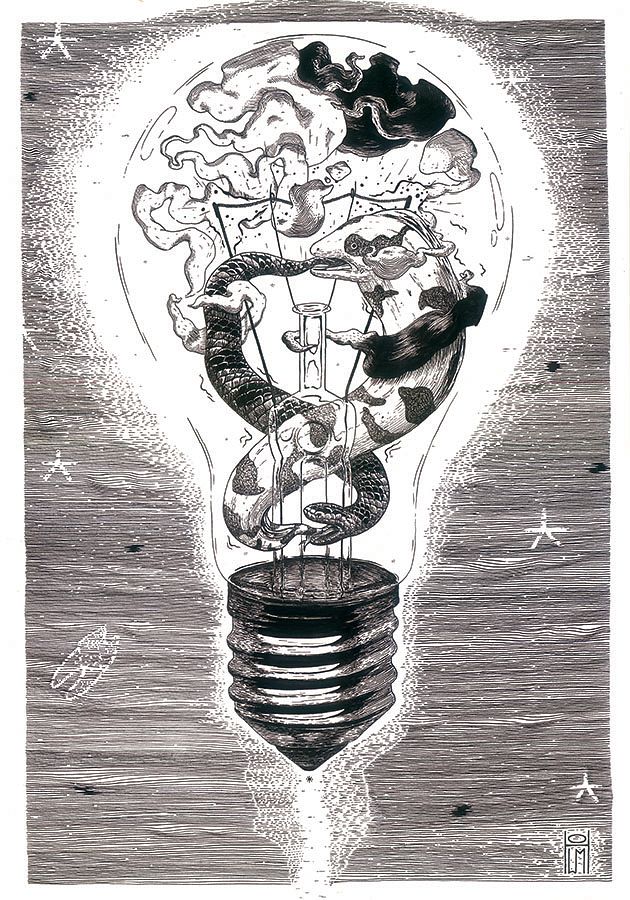 This show marks a strong development in style for Holm, "for these drawings, I wanted to change my style to be more compatible with my feelings. My previous work fell within a more comic-style, while in pieces like "Rebirth," the approach is more realistic and non-cartoonish," explained the German artist. "For me, it's important to develop my own style and be inspired by things and places that surround me. You should not make the same art all your life, but you can have your own distinct style and develop from it."
For the current artwork, he has utilized found objects and wood logs collected on his trips in Southeast Asia along with a quill and China ink for the drawings, "China ink gives a sense of elegance, although the end result is less perfect."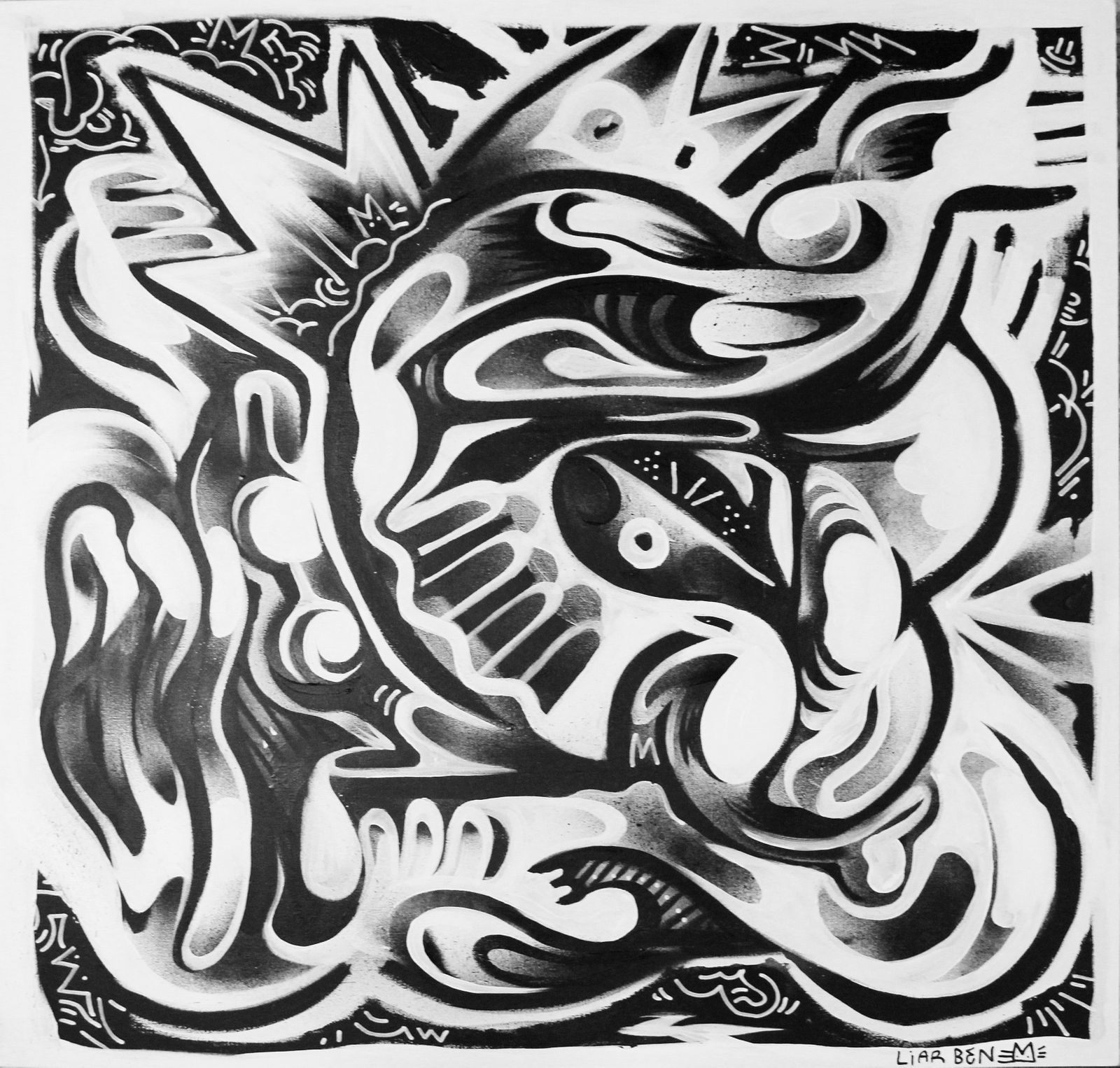 Liar Ben's art is yet another example of the increasingly diversified street art scene in town, "his pieces have distinct, bold lines that recreate a maze of geometric parts. In some ways, his work is more abstract compared to ours," explained Kotcher and Holm.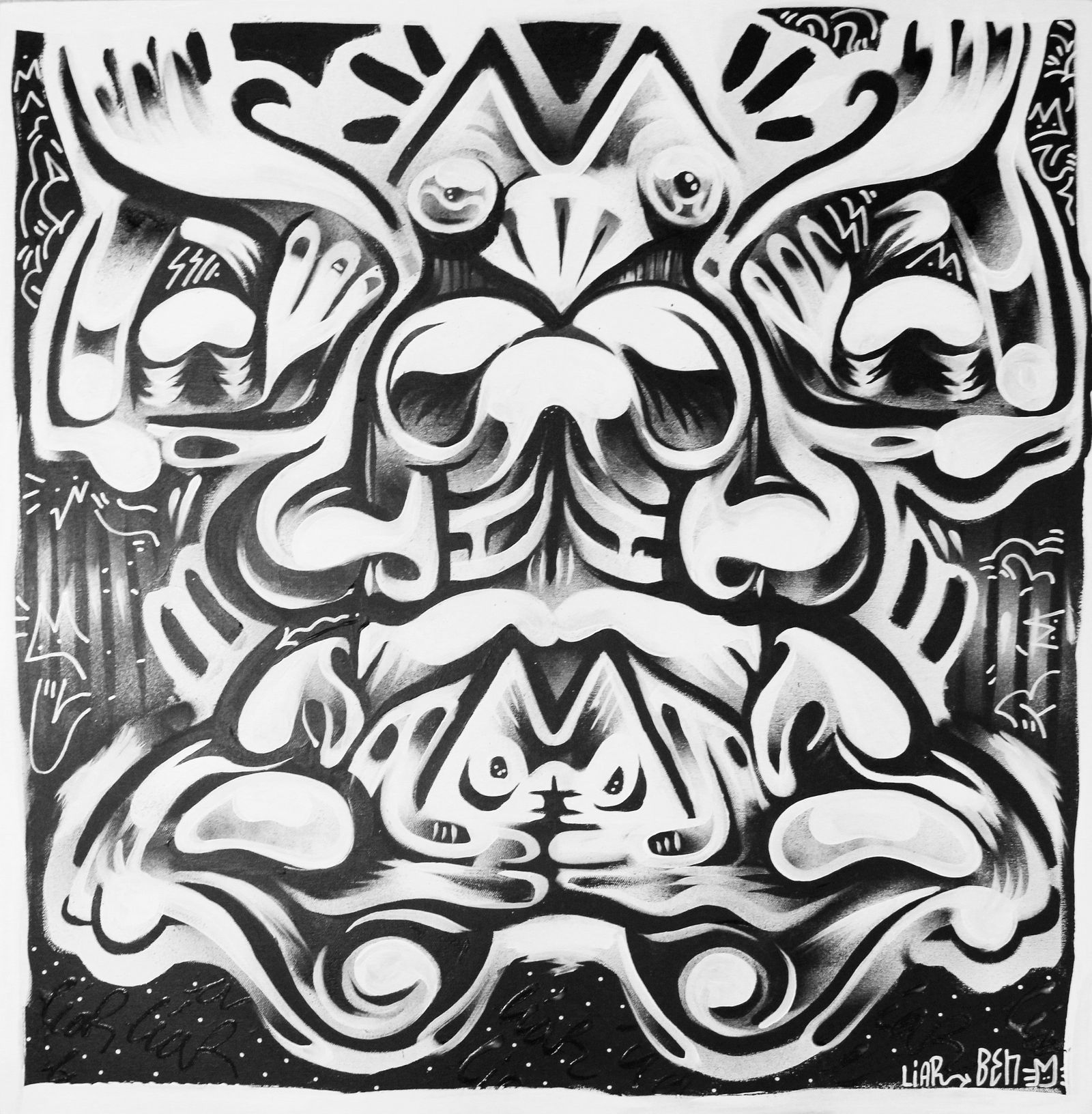 Liar Ben plays an active role in the urban art environment both at home and abroad. Last year, he was one of the Vietnamese artists selected to take part at the Koganecho Bazaar art festival in Yokohama City (Japan) – UuDam Tran Nguyen and Truong Cong Tung were the others – in which he presented a sugarcane-pressing machine while displaying graffiti. In 2013, he was involved in Rendezvous II, a workshop held in Yangon, Myanmar where street artists from Thailand, Singapore, Indonesia, Cambodia, the Philippines, Malaysia and Vietnam were invited to collaborate.
Saigon's urban art scene has been a rocky one, but since 2008, it has seen a steady uptick in contributions from numerous artists and collectives, such as UFO and The Saigon Projects.
Hopefully, exhibitions like Trialogue will serve to breach the gap between urban art and official galleries. The road still seems quite long, but this art form regularly attracts more visitors and participants than the many more established styles shown around town.
Trialogue will open on Friday, 27th March at 6 p.m. at Vin Gallery and an after party will follow at Saigon Outcast.