Now entering its fourth year, construction of the Saigon Metro system is chugging along. With several lines in development and plenty of work still to go, Saigoneer takes a closer look at the progress of the city's first new rail system in nearly a century.
Rolling Stock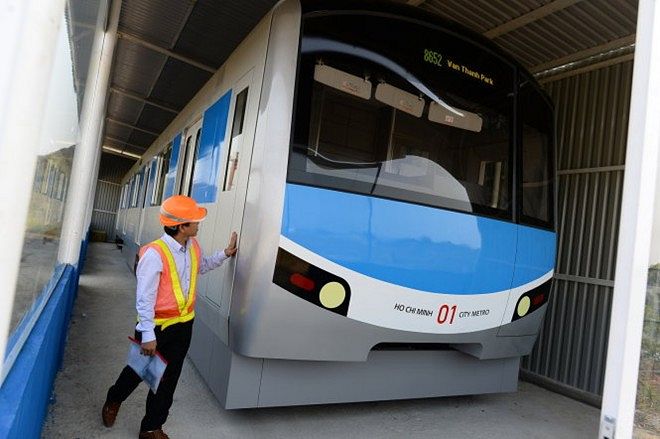 Last March, the city's railway authority displayed both a train carriage and cabin in District 9, inviting residents to give feedback on the design. Based upon the public's response, railway officials gave Hitachi the go-ahead to complete a full order of the blue-and-white cars, whose colors "create a feeling of youthfulness, strength and comfort", according to a Tuoi Tre article published in February of last year.
When put into operation, each train will consist of a cabin and two carriages, creating 61.5-meter-long trains which will each be powered by a 380V three-phase electric engine.
In this configuration, each train can carry 930 passengers at a speed of 110kph on the above-ground section (17.1 kilometers) of the line and 80kph on the underground segment (2.6 kilometers), making a full trip along the line 30 minutes.
Logo
For branding, Saigon Metro opted to use one of Vietnam's favorite symbols: the lotus. In the logo, the country's national flower – which also serves as Vietnam Airlines' emblem and inspiration for the shape of Saigon's Bitexco Tower – is merged with the letter "M". The blue "M" seeks to communicate the idea of eco-friendly transportation, while the golden arch symbolizes the bright future which will be ushered in by the metro line.
The logo was selected after a three-month competition judged by Head of the HCMC Art Association Huynh Van Muoi; Head of the HCMC Architects Association Khuong Van Muoi; and Head of the HCMC Railway Department Dr. Nguyen Minh Hoa.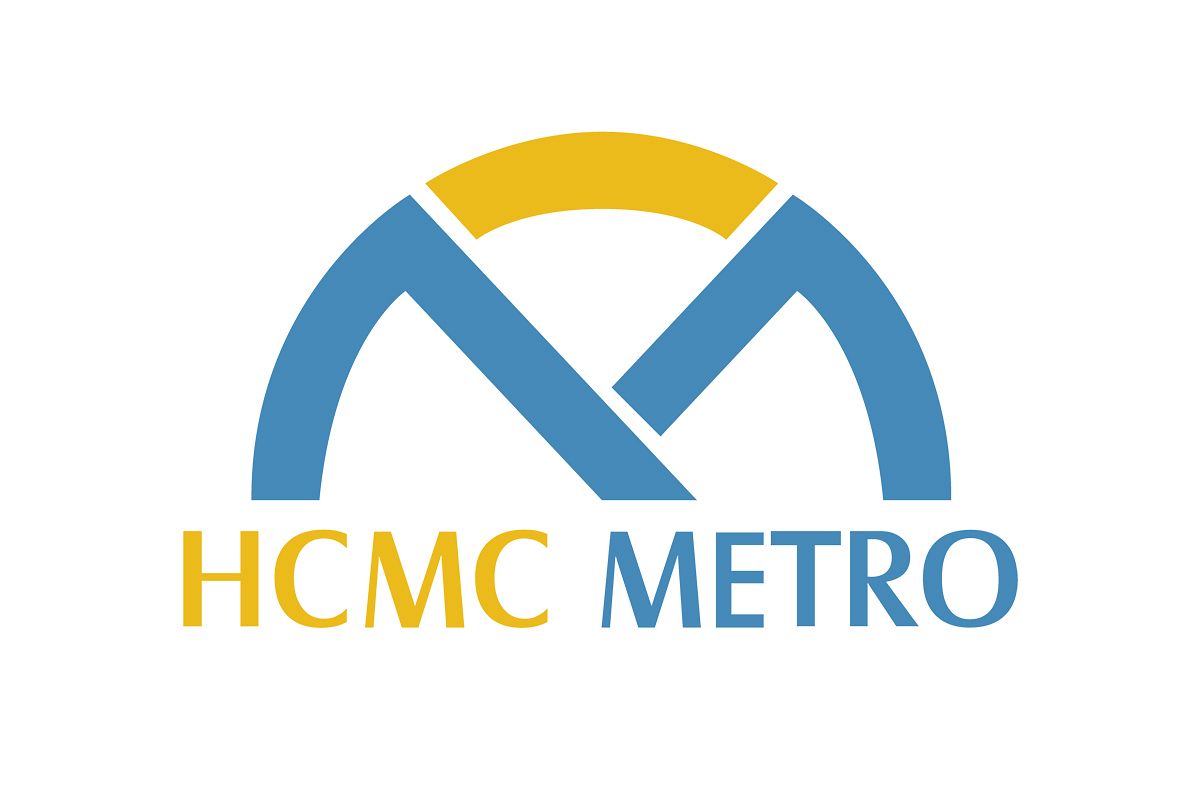 Cost
Though its initial plans gave metro developers a budget of US$1.4 billion for Line 1, this figure later ballooned to US$2.49 billion for the first metro route alone. City officials have pointed to design adjustments, higher wages and fluctuations in material and fuel prices as culprits for the higher price tag, all of which could continue to raise the project cost in future. Beyond Line 1, the municipal government also submitted its proposal for Line 5 to the National Assembly in October of last year with a requested budget of US$4.47 billion.
While official development assistance from the Japanese government will cover US$2.2 billion of Line 1's cost, with the remainder of the project paid for by the city government, this may not be the route's final price tag as there have been proposals to add extensions to Tan Son Nhat International Airport and Dong Nai.
Delays and Complications
Perhaps due to the same forces which have resulted in a bloated budget, Line 1's completion date has been moved from 2017-2018 to 2020-2021. These delays have worn on the Japanese contractors tasked with building the metro; last November, the company wrote a letter to the city government seeking VND2.5 billion (US$111,000) a day in compensation for the project's 27-month delay, or US$90 million in total.
Trees have also proven be a point of contention as many of Saigon's oldest stand in the way of metro construction and other infrastructure projects. In 2014, the city cut down century-old trees in front of the Opera House to make way for a metro station; just last month officials also announced that 300 trees along Ton Duc Thang Street would be cut down or replanted elsewhere as a result of metro station construction and the erection of Thu Thiem Bridge 2.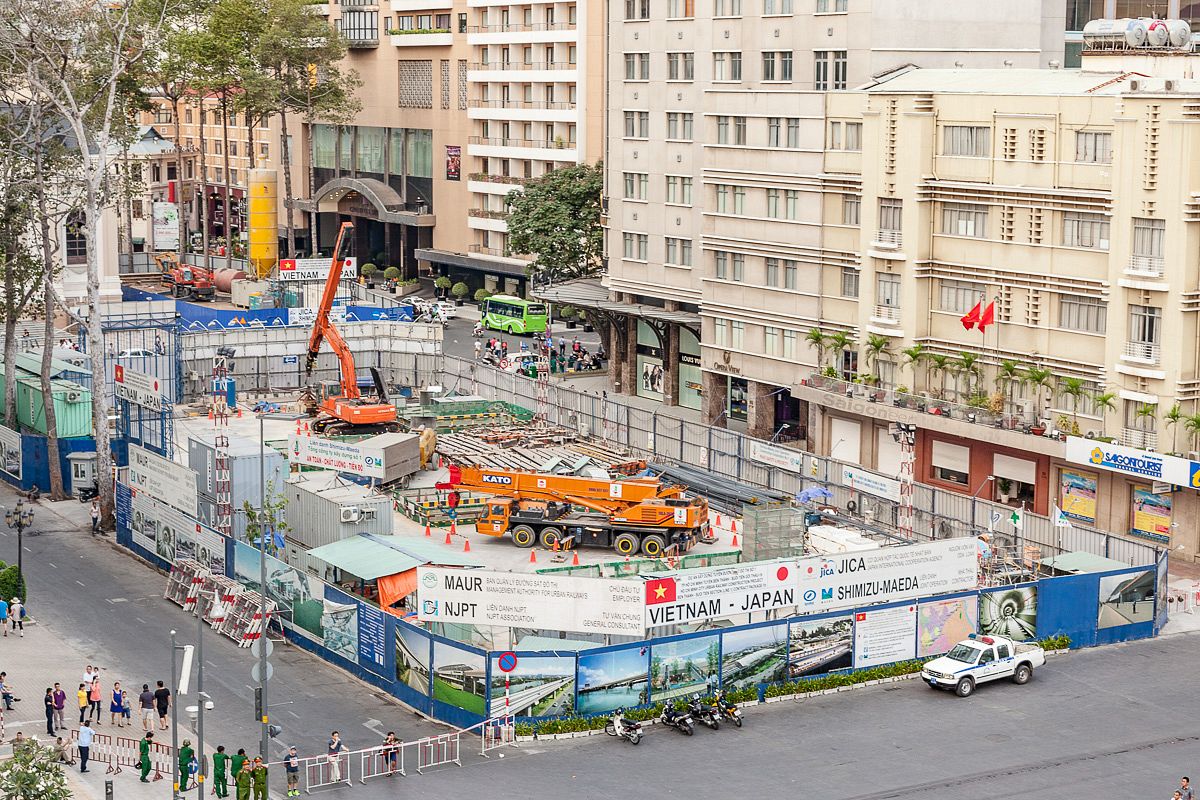 Future Lines
So far, five of Saigon's planned metro lines have begun construction and are in varying stages of development. In addition to Line 1, whose progress is outlined above, here are updates on the rest of Saigon Metro's lines:
Scheduled completion date: 2020
Number of stations (phase one): 11 (10 underground, one elevated)
Total investment (phase one): US$2.07 billion
Construction of the system's second metro line kicked off on January 15, 2015. In its first phase, Line 2 will travel 12 kilometers through Districts 1, 3, 10 and 12 as well as Tan Binh and Tan Phu Districts, serving 80,000 passengers per hour. The project's funds come from the local government, the Asian Development Bank (ADB), the European Investment Bank (EIB) and the German Bank for Reconstruction (GBR).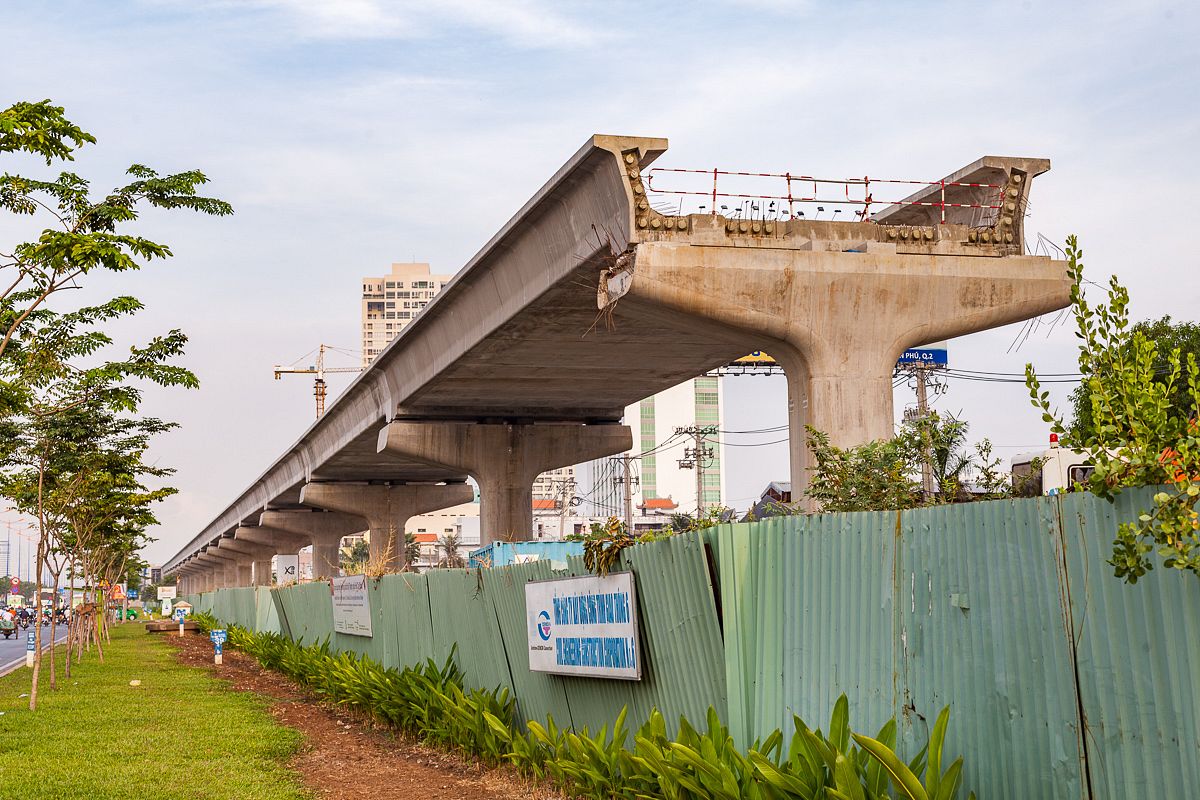 Line 3A
Scheduled completion date: Unclear
Number of stations (phase one): 10 (underground)
Total investment (phase one): US$1.82 billion
Line 3B
Scheduled completion date: Unclear
Number of stations: 10 (eight underground, two elevated)
Total investment: US$1.87 billion
In September 2015, the city's Urban Railway Management Board asked Hanoi for permission to seek nearly US$3 billion worth of loans from Japan's official development assistance program for Lines 3A and 3B. Once complete, Line 3A will run 10 kilometers from District 1's Ben Thanh Station to Tan Kien Depot in Binh Chanh District, while line 3B will connect Cong Hoa Station in Tan Binh District with Hiep Binh Phuoc Station in Thu Duc District (see the map below) over 12 kilometers.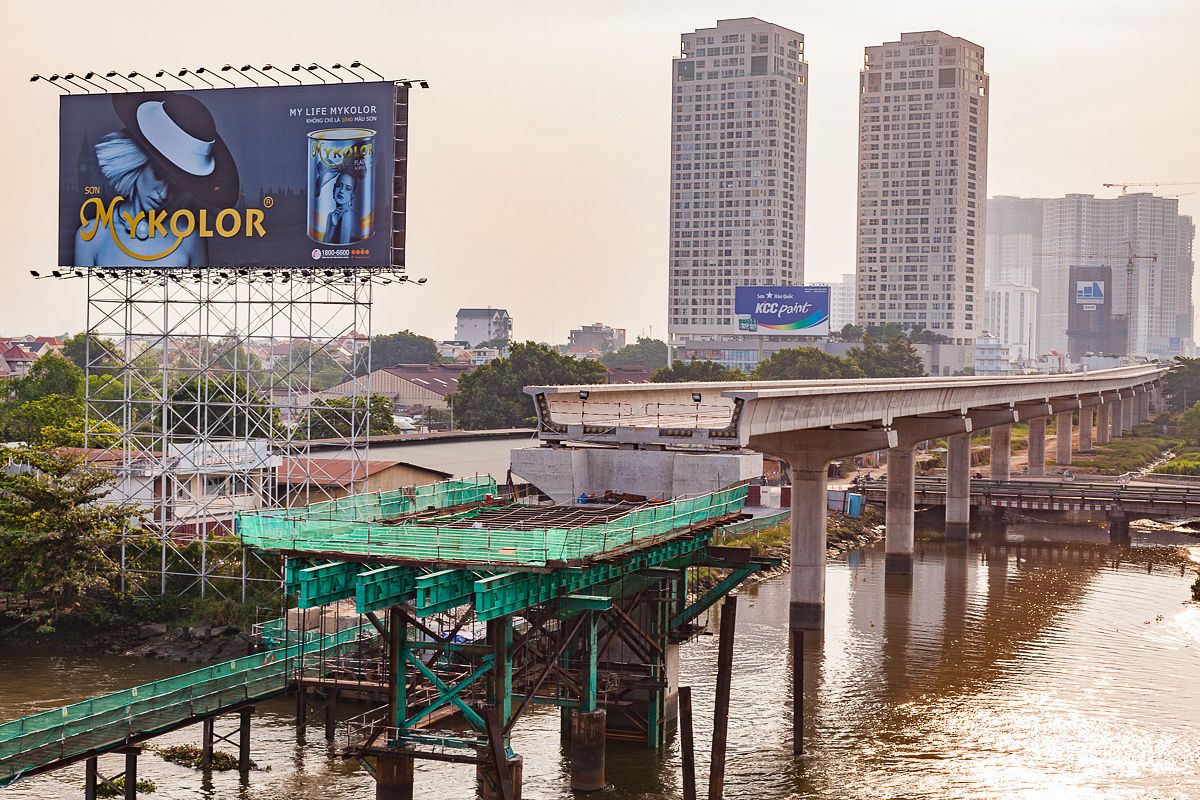 Scheduled completion date: Unclear
Number of stations: 33 (15 underground, 16 elevated, two ground-level)
Total investment: US$4.45 billion, investment source unknown
Metro Line 4 is not only the city's longest at 37.6 kilometers but also significantly more expensive than Lines 1, 2 and 3. The route will run through Districts 1, 3, 4, 7 and 12 as well as Go Vap, Phu Nhuan and Nha Be Districts, with termini at Ben Cat Bridge in Go Vap District and Hiep Phuoc in Nha Be District.
According to the MAUR, the line is set to consist of a 0.73-kilometer above-ground section, 18.2 kilometers of elevated railway and 13.1 kilometers of underground railway, as well as Metro Line 4B, a 3.4-kilometer underground extension which will run though Go Vap, Tan Binh and Phu Nhuan Districts.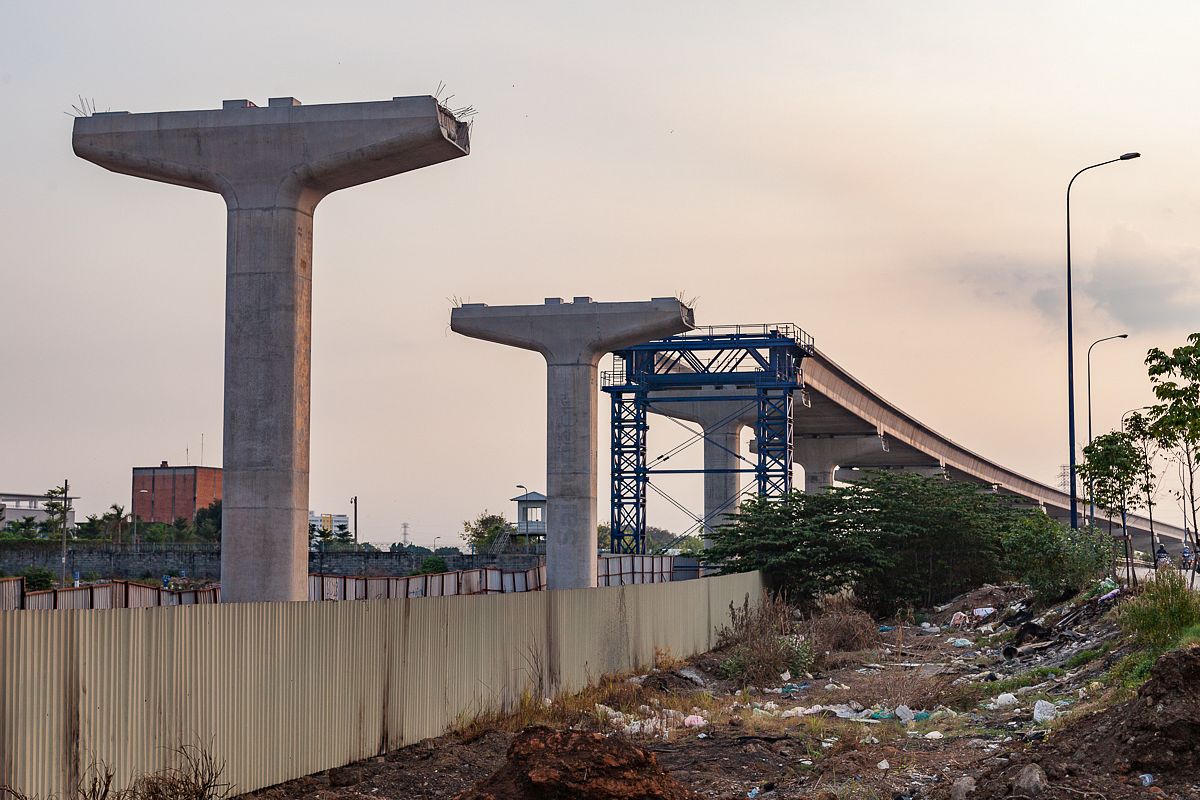 Scheduled completion date: Unclear
Number of stations: Unknown
Total investment: US$4.47 billion
Last October, city officials submitted a proposal for Line 5 to the National Assembly for approval with a staggering US$4.47 billion budget, making it the most expensive of Saigon's metro lines so far. According to MAUR, funding for the line's initial phase is US$1.86 billion, 30% of which will come from the state budget while the remainder will come from the Spanish government, ADB, EIB and DBR
The South Korean government is also willing to provide technical support for a second-stage feasibility study, officials told Thanh Nien last year. The study will also consider a proposal to build a two-kilometer link which joins the metro to Tan Son Nhat International Airport.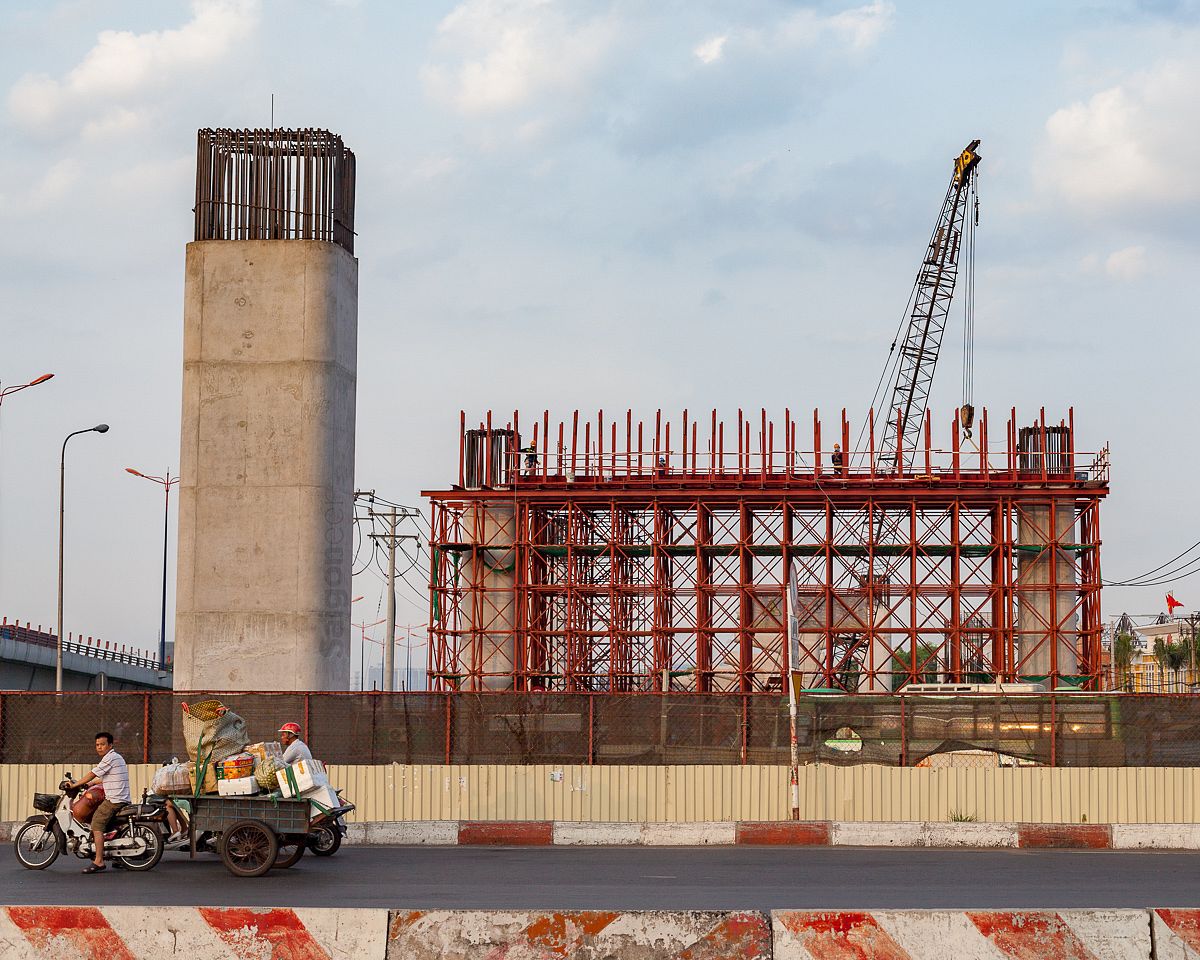 Scheduled completion date: Unclear
Number of stations: Seven (underground)
Total investment: US$1.25 billion, investment source unknown
While this line does not feature on the original Saigon Metro route map (pictured below), Line 6 is expected to run 5.6 kilometers between Ba Queo in Tan Binh and District 6's Phu Lam Roundabout. City officials are currently seeking funding for the project.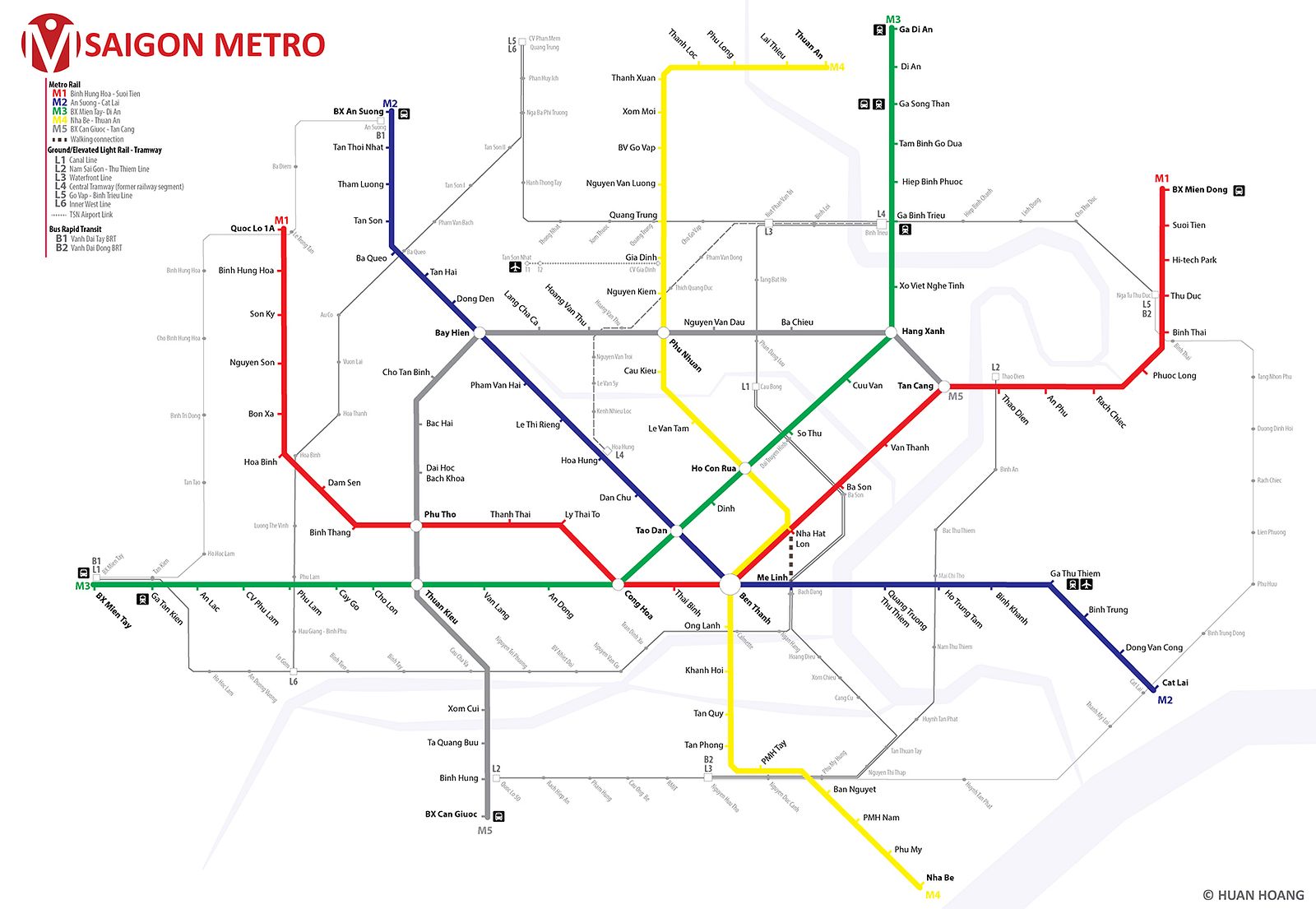 ---
Related Articles:
---